Volume 30, No. 3, Sep 2007
Book Reviews
REFERENCE
A Companion to the History of the Book, edited by Simon Eliot and Jonathan Rose (Malden, MA, Blackwell Publishing, 2007, $149.00 cloth cover) is another in the series of Blackwell Companions to Literature and Culture. From Sumerian clay tablets to electronic texts, this book serves as a coherent guide to the study of the history of the book. The experts who write a contemporary history of the book are transcontinental and bring the latest research to their work.
The book is divided into four sections, where Part I is Methods and Approaches: the methods used by book historians and allied specialists from bibliography to IT-based approaches; Part II is The History of the Material Text (first with The Book beyond the West and then the Codex in the West from 400-2000; Part III covers Beyond the Book; and Part IV covers Issues, including the Book as Art by Megan L. Benton, as well as literacy, copyright, and the future of the book. Includes a hefty index.
GENERAL
Japan Envisions the West: 16th- 19th Century Japanese Art from Kobe City Museum, edited by Yukiko Shirahara (Seattle, University of Washington Press with Seattle Art Museum, 2007, $40.00 cloth) features a splendid variety of exquisite Japanese works of art from the Kobe City museum, proving a rare insight into interactions between Japan and the West for 3 centuries. The process of reception, sysnthesis, and transformation by which Japanese artists adapted Western conventions into their traditional aesthetic is the basic theme of this beautiful volume.
Starting with Portuguese and Spanish missionaries and merchants, they came from the late sixteenth to early seventeenth century, conveying Western culture, religion, art, food and music to the Japanese. Namban refers to Japanese art made in response to these contacts with Portugal and Spain. Then the Tokugawa shoganate excluded foreigners from Japan from 1630s but made an exception for Dutch and Chinese merchants based in the port of Nagasaki. So Japanese artists working for the government had the opportunity to see foreign people, culture, and art firsthand. The painters made visual records, copied important objects, and distributed information about Western art and science to the literati and artists of Japan.
When the Shogun relaxed restrictions on imported Western books in 1720, scholarly artists and scientists were free to study them. So komo (the paintings prints, and decorative arts) demonstrate the fusion between Japanese and Western styles. The objects in Japan were made especially for trade through the Dutch East India Company.
After Commodore Perry arrived in Japan in the 19th century, Japanese curiosity, surprise and productivity tried to understand America with artistic virtuosity and inventiveness that remains fresh and appreciated even today. There are 105 illustrations, 80 in color, maps, bibliography and index.
The Warhol Economy: How Fashion, Art, and Music Drive New York City by Elizabeth Currid (Princeton, Princeton University Press, 2007, $27.95 hardcover) is a provocative study of New York City's economy and how the creative industries such as fashion, art and music drive its economy as much as finance, real estate, and law. And she maintains that these creative industries are fueled by the social life that whirls around clubs, galleries, music events, and fashion shows where creative people meet, network, exchange ideas, pass judgments, and set the trends that shape popular culture. And the argument is far-reaching, far beyond the confines of Manhattan, for it involves all urban areas where there is a "scene", where the cultural economy becomes far more important based on a vibrant creative social scene.
What Currid elucidates is how the social, cultural, and eocnomic mix make for the "Warhol economy." What's fascinating about this book is that she has used first-hand documentation and over 100 illuminating interviews with leading fashion designers, musicians, club owners, and artists such as Ryan McGinness, Lee Quinones, and Futura, to get an insider's account of how creativity is at work in New York from a sociological point of view. This is a name-dropping kind of book which proves its own point.
Government, economic, and social planning officials should read this book and learn that culture is important to any urban scene, more than ever. This is "Learning from New York". Illustrations, bibliography, index.
Archive Style: Photographs & Illustrations for U.S. Surveys, 1850-1890 by Robin Kelsey (Berkeley, University of California Press, 2007, $49.95 hardback) seems to reconcile the logic of the archive and the issue of individual style. Kelsey shows how small bureaucracies once sponsored the photographic documentation of geographical and geological surveys of the late 19th century such as those made by Timothy H. O'Sullivan, Arthur Schott and the U.S.-Mexico boundary views and C.C. Jones' photographs of the Charleston earthquake of 1886.
The technical and promotional needs of surveys fostered the emergence of a taut graphic pictorial style that imitated the informational clarity of diagrams and maps. This tension created those wonderful images which were necessary tools of survey work, and yet those artists used personal resistance to the powers that be to make those images as beautiful as they could. This is a book about visual culture for a forty-year period. Illustrations, bibliography, index.
The Plenitude: Creativity, Innovation, and Making Stuff by Rich Gold (Cambridge, MIT Press, 2007, $22.00 cloth) is a book by a kind of renaissance man for the digital age who reveled in being the outsider–one of the few male graduate students at an all-women's college, a techie among artists, and an artist among the engineers at Xerox PARC. Throughout his career, he balanced what he called his "four hats" of creativity: artist, scientist, designer, and engineer. As John Maeda puts it in his foreword, "Rich was a pure hybridized thinker in a world where monospecialties are the norm." From his multiviews of society, he looked at the dense ecology of stuff we live with with a fresh outlook and he called it, the Plenitude. Unfortunately he died in 2003, but he leaves us this tome.
As an artist, composer, designer, inventor, lecturer, and writer, he was at home in worlds of academia, business, and avant-garde art, so that this book is enhanced with Rich's wonderful drawings. The Plenitude tells us how to understand and live amidst this growing world of stuff. One item in the kitchen leads to lots more, so that is what Plenitude is. And this book is at once a cartoon treatise, autobiographical reflection, and practical essay in moral philosophy–how to understand it and live with it. In fact, he explains that the Plenitude grows not only because it creates a desire for more of itself but also because it is extraordinary and pleasurable to create.
The line drawings (cartoonish) that accompany this wonderfully fluent text add a perspective that makes us want to know Rich Gold–quirky and wonderful. The tome continues with the "seven patterns of innovation"–including "The Big Kahuna," "Colonization" (which is illustrated by a drawing of "The real history of baseball," beginning with "Play for free in the backyard" and ending with "Pay to play interactive baseball at home"), and "Stuff Desires to be Better Stuff" (and its corollary, "Technology Desires to Be Product"). He then meditates on The Plenitude, namely "that creativity means making stuff that has never been made before, that nobody has even thought of before and is not a warmed over replica of something already made." But it need not be physical, because it can be an idea, or a concept, or a string of words. But he asks about the moral contradictions of the Plentitude: How can we in good conscience accept the pleasures of creating stuff that only creates the need for more stuff? In other words, be careful about the world you create for yourself in which you wish to live.
Although this is a trade book, I believe it is as much an artist's book as a thinker's book as an inventor's book–it is a jewel that should be read over and over again–if you're interested in creativity, in the society in which we live, in the innovations that Rich Gold thought about–and you can think about too.
Brancusi's Endless Column Ensemble: Târgu Jiu edited by Ernest Beck (London, Scala Publishers/ACC Distribution in assoc. with the World Monuments Fund, 2007, $14.95 paper) has been published to celebrate the completion of the restoration of Brancusi's celebrated sculptural ensemble. This is the first book in a series on the work of the World Monuments Fund (WMF), the world's foremost private organization dedicated to the preservation of cultural heritage around the globe. The Fund has worked to stem the loss of more than 430 irreplaceable sites in 83 countries.
Brancusi (1876-1957), one of the premiere sculptors of the first half of the 20th century and one of Romania's greatest artists, was commissioned by the National League of Gorj Women to create a memorial to the brave soldiers who defended the village of Târgu Jiu (near Brancusi's birthplace) from a German attack in 1916. The resulting sculpture–Brancusi's only monumental outdoor work–was erected in 1937-38 and fell into disrepair over the next 50 years. The restoration was completed only in 2000, with work on accompanying sculptures and landscape following. There are seven essays dealing with creation of the Endless Column Ensemble, the Challenge of Târgu Jiu, including the Legacy of Târgu Jiu. Bibliography, 75 color illustrations.
Burning Book: A Visual History of Burning Man by Jessica Bruder (New York, Simon & Schuster, 2007, $28.95 hardcover) documents Burning Man, which began in 1986, when a handful of friends torched an eight-foot effigy on Baker Beach in San Francisco. Two decades later, the event has evolved into an annual festival that draws 40,000 people from all over the world to Nevada's Black Rock Desert. The extravaganza is dedicated to radical self-reliance and radical self-expression, attracting an eclectic mix of punks, geeks, families, ravers, grad students, gearheads, hippies, and tourists–turning the ancient lakebed of Nevada's Black Rock Desert into a bustling city that exists for one glorious week before disappearing into dust and ashes.
The hundreds of photographs document life-size board games, homemade labyrinths, neon forests, and throbbing rave clubs. Included are a myriad of rarely-seen artifacts that participants have collected over the years, helping to give one a mediated experience of something that has to be experienced to be believed. Bruder, a reporter for the Oregonian, draws on interviews with everyone from the founder to first-time participants, which explores the festival's culture, and remains a tribute to the tradition that continues to leave an indelible mark on its participants, year after year.
Peter Nadin: First Mark/El Primer Trazo by Richard Milazzo, Andrew McCarron, Pnilip Larratt-Smith and Peter (Milano, Charta, 2007 $80.00 hardcover) is a breakthrough for this artist who has not been shown since 1992, since he stepped away in an attempt to "unlearn how to make art." Being a farmer in the Catskill Mountains where he raises goats, chickens, hogs, and vegetable and fruit gardens, besides being a beekeeper, Nadin has generated the tactile, olfactory, visual and auditory experiences of the land being expressed with marks on linen using materials from the farm: honey, wax, , bee propolis, black walnut, elderberry,, chicken eggs, and cashmere wool. Much like medieval relics, his First Mark series harks back to medieval reliquaries which held fragments of the saintly corpus, where now the painting or icon was mimetic. There are 76 paintings and sculptures featured in this book representing the output over the past 15 years, returning art to the most basic impulse from which it emerged. A kind of philosophical transcendentalism seems to have returned to his work, a North American tradition, and a return to the very roots of art.
Published in Spanish and English, due to the exhibition of some of these works in Havana, Cuba, the beautifully printed volume has 107 illustrations, of which 93 are in full color. The authors each take a different aspect of Nadin's work and illuminate various characteristics of the work. Philip Larratt-Smith has a conversation with the artist, which gives the artist's view of his paintings, indicating his intimate connection with Cuba and his feeling of affinity with the country. Includes bio-bibliography and index. Distributed by d.a.p., New York. A very beautiful book.
PICABIA & DADA
I AM A BEAUTIFUL MONSTER: Poetry, Prose, and Provocation by Francis Picabia, translated by Marc Lowenthal (Cambridge, MIT Press, 2007, $39.95 hardcover) is the first definitive edition in English of Picabia's writings, gathering a sizable array of Picabia's poetry and prose, and providing a critical context for it with an extensive introduction and detailed notes by the translator.
Picabia, known for being a poet, painter, self-described funny guy, idiot, failure, pickpocket, and anti-artist par excellence, was a defining figure in the Dada movement, a "true" Dadaist as seen by André Breton. His poetry and prose is belligerent, abstract, polemical, radical, and sometimes baffling–but if you read it aloud, it is stunning, clear and unique. Denying literary convention and readerly expectation, Picabia anticipates all that came after him–Dada in its fullest. Some would say his manifestos are sometimes engaging, othertimes insufferable.
With the volume of his total work for the first time in English, we owe Marc Lowenthal gratitude for this great service to English-speaking poets and cultural historians, for now one can appreciate these highly charged and intoxicating poems and provocative prose.
The Artwork Caught by the Tail: Francis Picabia and Dada in Paris by George Baker (Cambridge, MIT Press, 2007, $39.94 hardcover) is an October book which shows how Picabia has now emerged as the Dadaist with postmodern appeal, and still one of the most engimatic figures behind the enigma that was Dada. Baker thus turns to Picabia as his lens for his understanding of those years in Paris of Dada.
In the reimagining of Dada, Baker depicts a new account of the readymade, which opened fine art to mass culture and the commodity. Instead of breaking down art, Baker argues that the Dada readymade aimed to reinvent art, opening art not just to the commodity, ,but to the larger world from which the commodity stems–capital and money–creating Dada Drawing, Dada Painting, Dada Photography, Dada Abstracton, Dada Cinema, Dada Montage. In so doing, Baker reminds readers of an almost forgotten series of events such as Paris Dada "manifestations" to Picabia's polemical writings; from a lost work by Picabia in the form of a hole (called The Young Girl) to the "painting" Cacodylic Eye, covered in autographs by luminaries ranging from Ezra Pound to Fatty Arbuckle.
As an Epilogue, Baker ends with readymades in prose, creating a heated conversation among Picabia, André Breton, Tristan Tzara, James Joyce, Friedrich Nietzsche, Jacques Derrida, Gilles Deleuze, and others. Dada through the lens of new art history becomes something else again.
PHOTOGRAPHY
Analogue by Zoe Leonard (Columbus, Ohio, Wexner Center for the Arts/Cambridge, MIT Press, 2007,$24.95 hardcover) is a meditative journey through a "layered, frayed, and quirky" beauty of a fading way of life. Leonard has looked at urban life, its portrait and its texture, as seen in the shop windows of mom-and-pop stores, with 400 photographs taken between 1998 and 2007. As many of the readers of Umbrella have experienced, those local markets, shops, shoemakers, even movie houses, are slowly closing for the greater good of retail malls, reflecting the ever-expanding global economy. That neighborhood feeling leaves when the Gap, Taco Bell, and Whole Foods arrives, substituting for all those wonderful vendors with whom we have made connections for so long. It all begins with the neighborhoods on New York's Lower East Side and in Brooklyn, but Leonard also has included the patterns of daily commerce and survival in Mexico City to Warsaw, East Jerusalem and Kampala, Uganda. She records the homogenization of societies through multinational brand images, even tracing a shipment of discarded clothing from a clearing station in Brooklyn to Kampala, showing us the unique channel of the rag trade gone global! And she shows us how rags for one culture become the jewels for another.
From Coca Cola to vintage clothes, those throwaways become treasures to a developing country, but she also documents the many photo shops where film reigns supreme, the slow (or speedy) transfer to digitally manipulated perfection of mail order catalogs still far enough away to preserve the photographic realm of the analogic–the photograph's ability to document physical data into a corresponding image. So this is a lament for the end of small shops and the cry for the endangered photographic shops as well.
Analogue serves as a catalog for a major exhibition of the same name which includes 83 color images from the exhibition and a text compiled by the artist of quotations from diverse sources. This is a big book, a modest price, and a series of images that you will not forget, accompanied by a personalized series of texts by the artist.
The Origins of American Photography 1839-1885: From Daguerreotype to Dry-Plate: The Hallmark Photographic Collection at the Nelson-Atkins Museum of Art by Keith F. Davis, with contributions by Jane L. Aspinwall (New Haven, Yale University Press in assoc. with Nelson-Atkins Museum of Art, 2007, $65.00 hardcover) chronicles the emergence of a new visual paradigm, from the introduction of the daguerreotype in 1839 through the Civil War and the exploration of the West to the rise of popular photography in the 1880s. Beautifully designed and produced, with over 600 reproductions in tritone and four-color, this important volume features works by all the leading practitioners of the time and by others who remain unknown.
The Hallmark Collection, begun in 1964, is the nation's oldest corporate holding of fine art photography (acquired by the Nelson-Atkins in 2005). There are 6,500 works by nearly 900 artists. This book chronicles photography's central role in our nation's cultural life and shows how photography transformed American's sense of themselves and their world.
Davis gives photography a social context and examines aesthetic development in an ear of rapid national growth. There was a demand for daguerreian portraiture, markets fo Civil War images, and the art of Western landscape photography, reflecting the concerns and views of 19th-century society. There are 606 tritone and color illustrations that make you feel you're looking at everything in the gallery showing Developing Greatness: The Origins of American Photogrpahy, 1839-1885; From Daguerreotype to Dry-Plate at the Nelson-Atkins Museum from 9 June - 30 December 2007.
FLUXUS
The Dream of Fluxus: George Maciunas: An Artist's Biography by Thomas Kellein (New York, Thames & Hudson, 2007, $45.00 hardcover) is an examination of the life of the self-declared Chairman of Fluxus, George Maciunas (1931-1978), and his strangely radical modes of presentation in the name of the Fluxus movement. According to Kellein, Director of Kunsthalle Bielefeld, from 1982-88, curator of the extensive Hanns Sohm Intermedia Archive in the Staatsgalerie Stuttgart, and writer on Fluxus, this is a very particular artist's biography.
In this period of a very substantial art market on a global scale, it is refreshing to read the biography of an artist who believed in works of art with no financial value as such, who believed that museums, theaters, concert halls, opera houses, and publishers–the art business–should cease to exist. He felt that Fluxus should replace these traditional works of art in the form of Drip Music–water dripping from a bowl–or in the form of an ordinary Exit sign, which would turn any kind of departure into a performance. In addition, Fluxus was so uncomplicated that it could be realized by anyone almost anywhere. The only marketing would be that new pieces would have their copyrights protected and would be available for the price of a paperback. Maciunas strived to create a culture that was fairer and aesthetically more viable. But, being Lithuanian, the first hurdle was to defeat the bourgeois, baroque manifestations of the prevailing culture.
All of this is accompanied by photographic documentation, graphic illustrations created by Maciunas, and the documentation of ephemera from the Fluxus movement as seen from the Maciunas point of view. Because money was not an issue, he tried to make life as Spartan as possible with no personal enrichment., yet photographed himself in women's underwear (well ahead of his coming out as a transvestite on his death bed). In fact, although he struggled throughout his life to achieve his ultimate goal, he died impoverished and in miserable circumstances.
It takes a Kellein, who went to the source of the documentation of a life held by the Silverman Fluxus Collection Foundation and the Staatsgalerie Stuttgart held in tandem from 1984 onward. It is reconstructing that life to show how he had a nurturing mother and an absent father. We know that his mother said that "the boy was playful and disobedient, always wanting to be completely free." It continued through his adult life as a revolutionary and a radical, wanting to take care of his artists, creating the loft culture in SoHo, designing the books and the posters in his inimitable style–but never achieving what he really wanted for Fluxus. He died at the age of 46.
172 pages, 100 duotone illustrations, ISBN: 978-0-500-97665-4
A Flexible History of Fluxus Facts & Fictions by Emmett Willilams (New York, Thames & Hudson, 2007, $45.00 hardcover) is an amazing set of 70 "Kunstfibel" Collages digitally remastered by Ann Noël with commentaries by the artist–an irreverent volume of fictive fabrications, first exhibited in 1998 at the Berlin Art Fair. In German, a Fibel is a primer, a first reader, a handbook. It rhymes with Bibel, the German word for Holy Scripture. And as Emmett indicates, you'll discover a lot of fibs in the fables, however, as well as truths! In this compendium, Willilams ventures forth full speed ahead remembering his own first-hand experience of events, perhaps at variance with the Authorized Version of what happened in Fluxus, why, when, where and with whom. In other words, this is a series of pseudo-historical explorations of Fluxus, Happenings and Performance Art, accompanied by collages (on the right-hand pages of the book). And the documentation appears on the left hand side.
This is a poetic, lyrical, amusing history of Emmett Williams' experiences, impressions and memories of the Fluxus culture. It's a tribute to Thames & Hudson to be open to publish all points of view, so that Maciunas' biography is challenged by the counterpoint of Emmett Williams in a joyful, playful manner. Williams has followed the footsteps of Lyonel Feininger, Rube Goldberg, and Ad Reinhardt, with colorful, pseudo-historical drawings, painstakingly remastered by Ann Noël, his wife and an artist in her own right, for this edition. His friends and colleagues people these made-up images of such artists as Maciunas, John Cage, Joseph Beuys, Claes Oldenburg, Yoko Ono and John Lennon, Nam June Paik, and Charlotte Moorman, Christo and Jeanne-Claude, and many more. On the left-hand pages are stories, documents and reminiscences from the author's personal archive about the Fluxus experience, Performance Art, etc.
Emmett Williams was a poet, painter, printmaker, and performer. In 1996 the Berlinische Galerie awarded him its first Hannah Höch Prize for "a lifetime of achievement in the arts." He passed away earlier this year.
SEARCHING FOR SEBALD - a very special publication
Searching for Sebald: Photography after A.G. Sebald, edited by Lise Patt with the assistance of Christel Dillbohner (Los Angeles, Institute of Critical Inquiry, 2007, $ 39.95) is the result of four years of intensive dialogue and labor for a publication project by the associates of the Institute and people around the world from England, Switzerland, Ireland, Belgium, Germany and the U.S.
Although many recent scholarly texts address Sebald's complex prose, Searching for Sebald is the first to explore Sebald's fictive world through the idiosyncratic and anti-heroic photographs that propel and interrupt his labyrinthine narratives. The book also features an English translation of an interview Sebald gave in 1997 in which he talks exclusively about his use of photographs. It contains some of Sebald's most illuminating and poetic remarks about the topic yet. In it, he discusses Barthes, the photograph's "appeal," the childhood image of Kafka, family photographs, and even images he never used in his writings. Searching for Sebald is the 7th in a series of publications by ICI Press that explores the methodologies of culture.
Sebald wrote four works of prose fiction before he died in December 2001 at the young age of 57. Vertigo, The Emigrants and the Kings of Saturn, published at regular intervals through the 1990s, garnered immediate attention and respect in literary circles. By the time his last book, Austerlitz, was released in the months before his death, he was internationally recognized as one of the great European writers of the 20th century, with far-reaching influence in fields outside of literature, including sociology, cultural studies and visual arts.
Sebald's books are sui generis hybrids of fiction, travelogue, autobiography, and historical exposé, in which a narrator (both Sebald and not Sebald) comments on the quick blossoming of natural wonders and the long slow death of all human atrocities. Many of his fictive narratives are punctuated with images–murky photographs, architectural plans, engravings, paintings, newspaper clippings–inserted by the author into the prose with no captions and often without obvious connection to the words that surround them.
This book adopts a unique perspective on Sebald's use of images, including a nuanced discussion of shifting layouts in different editions of the books. Theoretical essays approach Sebald through the multiple filters of art history, film and photographic studies, cultural theory, and psychoanalysis. Contemporary visual projects offer a more anamorphic reading of this bricoleur. This volume also includes the first English translation of a landmark interview with Sebald in which he discusses his use of images.
This is a hefty book, including essays by many scholars, including the 1997 interview with Sebald by Christian Scholz. There is featured artwork by Shimon Attie, Joseph Beuys, Christian Boltanski, Tacita Dean, Felix Gonzalez-Torres, Anselm Kiefer, ManRay, Gerhard Richter, Skuta, Aby Warburg, and the ICI Research team, among so many others.
There are essentially three deluxe editions. The first is a sleeved edition. The paperback book will be housed in a hard cardboard silver paper sleeve. "Study documents" will be inserted into the book. These documents include a stand alone version of Christel Dillbohner's gatefold, some photographs from a few artist projects and a volvelle, created to help the reader navigate the book in a Sebaldian cadence. This version will sell for $80 and will be available by 15 November. The second deluxe version is the collector's version. It will include a hardcover version of the book - bound in black silk with an image of the silvered sea (currently on the paperback book) tipped into a depressed frame on the front of the codex. This book will be housed in a black silk sleeve along with a separate box (the same dimensions of the book but 1/4 the thickness) that will hold the aforementioned study documents AND a large magnifying glass. This version will cost $130 and will be available by 1 December. The third deluxe version is the suitcase edition. This will be a numbered edition - 75 with 25 artist proofs. Inside a unique, vintage traveling suitcase there will be a hardcover version of the book surrounded by Sebald inspired or Sebald re-contextualized ephemera by a roster of 20 international artists. These objects include a sequence of film in a hand-held projector that captures Sebald's ghost wondering the streets of East Anglia, vintage frames with "absent images" , a set of train tickets to Sebald destinations, round-trip journeys that never return to where they began, an artist's book that re-traces Sebald's trip in the Rings of Saturn, a greeting card that captures the sound of an image that quickly fades before it can be committed to visual memory, a hand-made map with the sinewy trail of Sebald's trip through Italy captured in stitches of red silk thread, a playing card from a deck that was created through an interactive online writing project in the UK; cards that give "face" to a town that exists nowhere in the world but in everyone's head…among others. The suitcase will be priced around $750. Pre-publication price is $500 until January 2008. The suitcases will be released on 29 February 2008.
The three deluxe versions will be offered through the ICI. The trade edition of Searching for Sebald can be purchased through DAP (or at other familiar websites or bookstores). The trade is also available as a premium of membership to ICI, beginning at the $50 level. For more information, contact the Institute of Critical Inquiry, 1312 So. Robertson Blvd., Los Angeles, CA 90035 USA and www.culturalinquiry.org
EXHIBITION CATALOG
Take Your Time: Olafur Eliasson, edited by curator Madeleine Grynsztejn, the catalogue for Eliasson's first U.S. survey exhibition, aptly captures the wonder and intelligence that underlie his work through dazzling visuals and thoughtful texts. This authoritative volume contains 200 color illustrations, plus contributions from Mieke Bal, Klaus Biesenbach and Roxana Marcoci, Daniel Birnbaum, Olafur Eliasson and Robert Irwin, Pamela M. Lee, and Henry Urbach.
Widely heralded as one of the most important artists of his generation, Olafur Eliasson nimbly merges art, science, and natural phenomena to create extraordinary multisensory experiences. Challenging the passive nature of traditional art-viewing, he engages the observer as an active participant, using tangible elements such as temperature, moisture, aroma, and light to generate physical sensations. The works assembled for this presentation — the first U.S. survey of this Icelandic artist's oeuvre — date from 1993 to the present and reflect all facets of his creative practice. Encompassing sculpture, photography, and large-scale immersive installations — including a newly commissioned kaleidoscopic tunnel that envelops the Museum's steel truss bridge — these groundbreaking projects are intentionally simple in construction but thrilling to behold, sparking profound, visceral reactions designed to heighten one's experience of the everyday.
This exhibition is a journey, taken individually by each visitor, and the impressions will be individual as well. Immersed in a diversity of environments dealing with light and mirrors to wood, water, and live moss–what more can you ask for? All the senses are involved in motion perceptions, interactions, and experiences that one would not ordinarily have in a museum. So "Take your Time" is a deliberate cautionary message to visitors to savor the moment, savor the experience and realize that an artist can transform reality into something very special. The whole empirical event is ephemeral–you walk away with your own impressions that endure for a very long time. There is joy in beauty.
Robert Irwin's conversation with Olafur Eliasson is very special, since they share so much in their art making which is so ephemeral–and yet their common intelligence bridges all gaps of age and experience. It is a gem. One hopes that the ephemeral works of art captured in one still shot will invite the viewer/reader to run, don't walk, to take your time with the Eliasson exhibition. It's worth the trip to San Francisco before Sunday, 24 February 2008. (San Francisco Museum of Modern Art and Thames & Hudson, 2007, $50.00 hardcover)
© MURAKAMI edited by Paul Schimmeland Lisa Gabrielle Mark (New York, Rizzoli/Los Angeles, MOCA/ Kaikai Kiki Co., Ltd., 2007, $65.00 (designed by Lorraine Wild)
Train for viewing Takashi Murakami's florid mid-career survey by attacking the exhibition's heavy weight catalogue, © MURAKAMI, utilizing a coalition of Japanese (back to front) and English (front to back) reading techniques. Start in the belly of the tome, viewing full color plates of the exhibition's ninety-six paintings, sculptures and animation stills. Introduced by a golden happy-face flower that morphs the Japanese imperial chrysanthemum crest into a smiley manga character, the works are arranged in chronological order. The earliest pair, Signboard TAMIYA and Signboard TAKASHI, (1992), document Takashi Murakami's determination to hitch his brand to a star by equating his given name with that of the Japanese corporation most highly regarded for its production of toy soldiers.
Walking through the catalogue's orderly alignment of reproductions of Murakami's output can't match the thrill of pushing your way past the cash register of the Louis Vuitton boutique on MOCA's mezzanine to gaze down on Murakami's mural-sized self portrait, Tan Tan Bo Puking – a.k.a. Gero Tan. But the logic of positioning the recently completed giant platinum plated Buddha adjacent to a candy colored collection of 500 Kaikai Kiki Corp. souvenirs will less likely be lost in translation if you have devoured the catalogue before exposing yourself to sugar shock.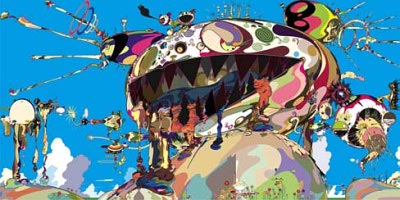 Tan Tan Bo Puking – a.k.a. Gero Tan
Thumb back as needed to essays by Paul Schimmel's and Dick Hebdige to consider how Murakami's formal training in the Nihonga art style, emphasizing traditional Japanese motifs, techniques and perspectives, collided with Western influences in postwar occupied Japan before bowing to Barbie on steroids, Miss ko2. Turn to Artforum senior editor Scott Rothkopf's contribution, Company Man, to examine the extent to which Murakami has co-opted Warhol's factory, Keith Haring's store and Walt Disney's empire, moving on towards the multinational production and management of fine art, trinkets, videos and his own stable of younger artists. Wrap it all up with UCLA doctoral candidate and MOCA project coordinator Mika Tositake's summation in her insightful essay, The Meaning of the Nonsense of Excess. "Murakami's practice has engaged in a symbolic play of consumption through strategies of branding, historical parody, spectacular forms of excess, anonymity and the futility of desire."
— Diane Calder