Volume 30, No. 3, Sep 2007
Artist Books Reviews
Most of the books reviewed here are available at Printed Matter, at 195 10th Ave. (between 21st and 22nd St.), New York, NY 10011. www.printedmatter.org
Travel Journal by Bernhard Cella ((Vienna, Hotel Ostblick, 2007, $48.00 paper) A travel journal intended as a diary, prepared for you with faded maps, photographs, hotel logos, ordinary vacation imagery on small cards, Cyrillic characters on most pages, yet a chapter from Dracula in English–all on bible paper (blue). A kind of preface to a journey to be used by an appreciative recipient. Yet it tells a tale in itself. A white elastic closing to make it personal and private.
Scream at the Librarian: Sketches of our Patrons in Downtown Los Angeles by Joel J. Rane, illus. By Raymond Pettibon & Cristin Sheehan Sullivan (Brooklyn, Booklyn Artists Alliance, 2007, $15.00 paper) is another Booklyn Chapter (ed. Of 600). The illustrations for each librarian and other characters in the book are full-page illustrated and the stories of these people are written by Rane, who served as a reference librarian for five years at the Los Angeles Public Library, Central Library in downtown. The cover is in color printed by letterpress. The patrons of the library are labeled The Cougher, the Tweaker, the Conspiracy Artist, and so many more. There is a deluxe edition of this story in hardcover, silkscreen edition, larger in size in an edition with an original bookplate, due date title pocket with card (signed by the author and artists), and handset barcode.
The limited edition of Scream at the Librarian is available directly from Booklyn Artists Alliance at www.booklyn.org
[Fake]Fake Estates: Reconsidering Gordon Matta-Clark's Fake Estates by Martin Hogue (Syracuse, NY, 2006, $13.00 paper) alludes to Gordon Matta-Clark's project. "Best known for his spatially dynamic extractions of large sections of walls and floors from abandoned buildings, Gordon Matta-Clark (1943-1978) purchased thirteen parcels of residual land, deemed 'gutter space' or 'curb property', in Queens that had been put on sale for $25 each: a 2.33' x 355' long strip of land, a 1.83' x 1.11' lot, among others, with the goal of highlighting neglected architectural environments that make up the urban and suburban fabric. The artist created an exhibit of his newly acquired 'properties' by assembling for each, and with deadpan accuracy, a photographic inventory of the site, its exact dimensions and location, as well as the deed to the property."
Hogue spent several months systematically canvassing the entire borough of Queens, NY, for residual properties similar to Matta-Clark's 13 parcels from 1975. Using online sources, Hogue's research sought to visually articulate those moments when conventions for establishing location and the precise boundaries of a site produce a conceptual "excess of surveying", inviting speculation as to the value and purpose of land and revealing the conceptual potential of "real" sites –even small and unusable ones (a 1/8" x 110' property, among others). Hogue, much like Matta-Clark, demonstrates in drawings, collages, and photographs suggest an intense consideration of the city's administrative minutiae as well as an interest in alternative modes of representation. Through this, one can perceive an aggressive process seeking sites in unexpected locations, or simply in those places we assume do not have architectural potential. Hogue allows hie reader/viewer partake of his research processes in detail, yet demands respect as well.
Make No Plans by Kevin Riordan (Chicago, Sara Ranchouse Publishing, 2006, $10.00 paper) is a juicy photo-collage of rich color, inky and overlaid, pulsating and rhythmic that buzzes with a Metropolis-like expansion on each doublepage that harks back to Riordan's pre-computerized, pre-digital work from the 70s and 80s. This is rich and chewy.
Salt Mine by Avner Ben-Gal (Tel Aviv, Tal Esther Gallery, 2003, $13.00 paper) is the documentation of a clandestine exhibition in Venice in 2003. Documenting a scattered civilization of embryonic colonies, Salt Mine is dominated by a transvestite and fluid sexuality with primitive life-forms and vegetation lying motionless. These paintings and drawings document a nightmarish kind of universe, hallucinations and delirium.
Non-Directed Drawings by Gary Kachadourian and 34 other people is the result of one evening in March, 2007 over the course of three hours when these people emulate a high school lined pad, in which they all indulged themselves in drawing with colored inks using the free flow of pens, or creating a series of bubbles to go along with portraits, etc. Printed in a very solid way, the copy of the notebook seems original with a binding of ductape. Published by Magazine-Stand, Baltimore, $6.00 paper).
Queen of the Artists' Studios: The Story of Audry Munson, intimate secrets of studio life revealed by the most perfect, most versatile, most famous of American models, whose face and figure have inspired thousands of modern masterpieces of sculpture and painting by Andrea Geyer, a German-born, New York-based artist, who has conducted intensive research on Audrey Munson's life, legacy and archetype. Munson, whose likeness can be found throughout Manhattan publicly representing consummate concepts like freedom, purity, peace and truth, is ranked among the most sought-after muses for the first quarter of the twentieth century. Geyer's book is not a biography, but a contextualization of Munson's life within the larger struggle of women trying to find their voices during their lifetimes and gain fair representation in the records of New York City history. Geyer has also arranged for the publication of 800 postcards facilitating donations for the first-ever memorial for Munson, who died in 1996 at the age of 105. The model is buried in an unmarked grave in her father's plot in a cemetery in New Haven, New York.
"Queen of the Artists' Studios"… includes photography and essays by Andrea Geyer, who reflects on the legacy of Audrey Munson; Justin D. White, who considers the historical context of Munson's life; Cynthia Chris, who reflects on the censorial and allegorical implications pertaining to Munson's film career and public representation; and Andrea Ray, who provides background on the St. Lawrence State Asylum for the Insane in Ogdenburg, New York, where Munson spent most of her life. The publication is designed by Aisha Burnes and includes documentation, photographs of the sculpture, photos of Munson with famous people, newsclippings, and is published by Art in General, New York City, $25.00 paper
As a Drop of Water on a K-way by Scintilla Robina and Norberto Dalmata (aka Stefania Galegati and Marco Raparelli) is a long back-and-forth communication between the two curators who are planning en exhibition and the ups and downs of reaching Marian Goodman and other impressions of art scene by either one of the artists–it is rigorous inter-communication and determination to "make it" as well in the art world. Fascinating and very human and touches on the European art world (Zug, Switzerland: Fine Arts Unternehmen Ag. 2007, $20.00 paper)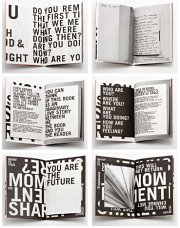 I Am You by Ellen Zhao (Rego Park, NY, 2006, $20.00 plus shipping) is one of my favorite bookworks of the year. Conceived as a post-diploma project by the artist in Paris. She first thought of doing a book about itself, first making a maquette. She wrote about the book and photographed the maquette with the writing inside. Then she photographed and then wrote more text, leading to a new maquette, where text, images and design performed side by side become one. It doesn't look like a big book, but it has pages on different kinds of paper, each set of pages smaller than the outside ones, so that the normal reading is done from larger pages to smaller pages.
"I am a book within a book, I am words about a book, I am photos of a book–and the type is large and dynamic,sometimes larger than the page, sometimes incomplete, but so attached to the art of reading. The book itself becomes the dynamic speaker of the text and connects with the reader in the very act of reading.
Meanwhile, Zhao has deconstructed the format of the book, which can be read from front to back or back to front. Reminiscences of McLuhan's The Medium is the Massage, a book designed by the renowned Quentin Fiore, makes me feel that Zhao really makes the book a performer, taking about the conception of the book starting from one direction. If you start the book from the other cover, the text talks about is own construction, telling the reader how to perceive its meaning or the"future". The centerfold of the book positions the "present" where the reader and the writer converge at the same time sequence with three inner books-within-a-book, bound in every smaller pages with different papers.
Then Zhao goes wild with type and some of the text cross over from recto to verso, always talking about itself in convoluted narcissism. It's grand, it's devilish, it's devious, it's fun–and makes the game produce the joy of reading. What more can you ask of an artist book, a graphic maneuver, a manipulation of what book means. Order directly from the artist at 8720 Eliot Ave., Rego Park, NY 11374. buro-gds.com
PHOTOGRAPHY
photo-graphs, a collection of photographs taken from 2005-2007 by David Horvitz is designed by Mylinh Trieu Nguyen as a series of digitized photographs by a peripatetic Los Angeles artist who drives around from the sea to the air–with many photographs of the sky for contemplation, the beach for repose, and people for interaction. The viewer completes the experience.
Distance by Alexis Zavialoff (Zurich, Nieves, 2007, $22.00 paper) represents the photographic documentation of three weeks in the life of Russian/French photographer Alexis Zavialoff, during which the artist traveled through metropolitan Moscow. Shot with a Pentax auto 110 format camera, the book records life alone and meeting new people, and in so doing presents the gap between Zavialoff's Russian heritage and his French upbringing. Zavialoff's penchant for rare 110 film, which he buys in the United States and develops in Prague, imparts to the project a sense of duration and process. It also gives the color images a more pictorial feeling than ordinary digital or film sequences. Some of the images are extremely striking.
I Live in the Manor by Oliver B. Brooks Jr. (Livingston Manor, NY, 2005, $12.50 cloth) is a moving autobiographical history, using interviews, photographs, and personal narrative. Artist Oliver Brooks presents a picture of a small town in upstate New York that, as it undergoes an economic revitalization, is leaving many of its inhabitants feeling displaced. The artist has become a sociologist, an economist, and a statistician in doing this book. It is an exposé of a small town with portraits of many of the artist's neighbors who seemingly trust him. This is a remarkable book, each copy of which is handbound by the artist.
Le Coin du Diable by Lucile Desamory (Zurich and Berlin, The Green Box, 2006, $10.00 paper) is a collection of collages that, in book form, suggest a loose dream-like narrative involving women and animals in domestic settings flitting from olden times to contemporary imagery, alluding to a pub called Au Coin du Diable. The images are taken from newspapers and old illustrations and bear the marks of their reproduction. With chapter titles in French and in an edition of 350.
The Years to Come by Eiko Grimberg (Zurich and Berlin, The Green Box, 2006, $20.00 paper) tells the story of an explosion that occurred in New York's financial district on September 16, 1920. Although the reason for the explosion has never been discovered, Grimberg combs through historical documents to compile a list of possibilities that range from the accidental to the conspiratorial. The story unfolds at a slow pace; text is surrounded by white space, and photographs of the buildings are interspersed with newspaper clippings. The effect is one of quiet gravity, and the reader is left to make connections between this tragedy and more contemporary ones. The book feels like a well-researched mystery that has contemporary repercussions and similarities. It's up to the reader to complete the mystery.
Gentlemen & Arseholes by Lene Berg (Berlin, The Green Box, 2006, $40.00 paper) is a facsimile of the first issue of the cultural journal Encounter from 1953 that has been supplemented by additional material drawn from books, newspapers, private albums, conversations and beyond. Inserted amongst the pages, the reproduced ephemera reveals the constellation of motives and characters behind publication. President Eisenhower said, "Our aim in the Cold War is not conquering of territory or subjugation by force… Our aim is more subtle, more pervasive, more complete." Funded by the CIA via the Congress for Cultural Freedom, Encounter was one of many tools to win over pinko hearts and minds.
The original journal was edited by Stephen Spender and Irving Kristol with contributions by Virginia Woolf, Leslie A. Fiedler, Christopher Isherwood, Dr. Edith Sitwell, Albert Camus, J. K. Galbraith, among others.
The supplementary materials that are inserted between the original pages, collected over a long period, from books, newspapers, private albums, conversations, etc. vary in character and form. What they have in common is that they describe aspects of that which, for various reasons, were never mentioned in Encounter, nor in connection with any of the other undertakings of the sponsor and publisher, the Congress for Cultural Freedom (1950-1967). The inserts, of course, can be read alone, but contextually, they change the interpretation of the original. The conspiracy carried out by the CIA results in many dilemmas.
Elisa Penn, Hero One! by Asher Penn (Vancouver, 2007, $15.00 paper) portrays in a makeshift portrait studio a wavy-haired young woman posing in a series of baggy, quirky t-shirts (laughing clown, Elvis as Rudolph the reindeer) with an improvised assortment of props. Occasionally, she mugs for the camera, but most of the photos present her looking straight into the camera with a reserved determination in a way that imparts a strong bond between her and the photographer. At the end, the viewer peers over her shoulder as she looks at a book full of naked female models. Her look back at the camera affirms the personal communication elicited through the anti-fashion shoot.
God Damn The Sun: A 100 Drawings from Napoleon at the Party by Jasper Sebastian Stürup (Denmark: Fluens Forlag. 2007, $30.00 softbound) is a collection of 100 color line drawings reproduced in actual size from a 2007 exhibition at Galleri Susanne Ottesen in Copenhagen. Each drawing reads like a fragmentary tracing from a rock album showing faceless images , deft drawing, and a keen sensitivity to the page, but some seem from an old photograph of teenage rebellion. Pages vary in color, the inks for the drawings are diverse, and the flow of party drawings certainly keeps the viewer's interest.
Kleenex Mathematics (Lynn Valley 2) by Johannes Wohnseifer (Vancouver, BC, Canada: Presentation House Gallery. 2007, $20.00 paper) combines snapshots by the artist with text culled from the garbled words included in spam emails to evade electronic filters. When overlaid on quotidian images, the nonsensically combined words act like a consumerism-drenched stream of consciousness.
Empty Frames by John Clayman (London, MOT International, 2006, $20.00 paper) is a series of black and white photographs from all over the world during the 1950s and 1960s, which are landscapes, fields, mines, desert scenes, parking lots, mountainscapes, which are haunting because they are unpopulated. The viewer fills in the blanks and wonders what should complete the image and why Clayman took the photo.
Hopi Basket Weaving by Justin Lieberman (New York, NY: Zach Feuer Gallery, 2006, $20.00 paper) is written and illustrated over the pages of an appropriated book by the same title, pasted up with drawings, paintings, and text about Lieberman's recent exhibitions and projects. A kind of journal, catalog and artist's book, full of carefully casual juxtapositions and a few remaining basket weavers peeking out from behind the collages, this bookwork is an indulgence which is idiosyncratic to the artist.
Lieberman quotes Pat Robertson, Dennis Cooper and Susan Sontag; handwrites (in aquatint) a resumé listing such gems as, 'fired for urinating in the food;' and riffs, with sly humor, on advertising. He burns a copy of Everything is Illuminated and zips its ashes into a sandwich bag above the slogan "Everything is Illuminated / Everything is Eliminated / Everything is Laminated." More seriously and with colossal effectiveness, he posits that, 'What happens in Africa, stays in Africa..' Painstakingly designed by Lieberman, this is the first publication of his work. It definitely is unique to the artist, but not uninteresting. It includes everyone from Ronald Reagan to Paris Hilton–and everything in-between.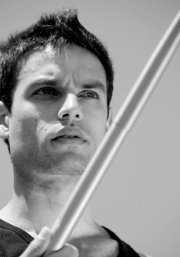 V1: The Riefenstahl Project by Scott Gerst (New York, 2007, in two versions)
There are moments in certain media that transform the soul, stir the heart, and make one happy to recognize the excellence of creativity. When I saw Leni Riefenstahl's films she did for Adolph Hitler, I forgot I was Jewish–I just saw the films for what they were, consummate cinematic presentations for the documentary production of enhancing the regime of the man who hired her, but her Olympia was the most stirring for me. Without dialogue, but with the most amazing music, one concentrated on the movements of bodies in supreme beauty and effort to win an award, to excel, to demonstrate that all the training made perfection.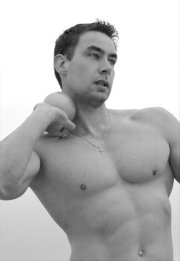 Scott Gerst, a photographer, videographer and visual communicator, has now tipped his hat to Riefenstahl with a stunning artist newspaper demonstrating these amazing portraits of men who demonstrate their skill in sports in stunning black and white photographs. The newspaper format is such a good fit for these splendid photographs of masculine beauty. As a collector of artist newspapers for many decades, I feel that the newspaper format yields to grandeur, double page spreads, and the facility to entertain black and white well, now that soy inks and washed newsprint paper allows for whiter paper and a sharper image.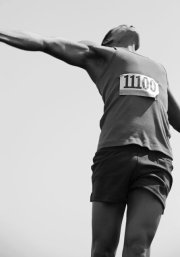 But when you see what he did with the videotape of the project, the music lifts one's soul to heights beyond one's imagination. It is as masterful in 2007 as it was in 1938. Amazing!
Copies of V1: The Riefenstahl Project are available at Printed Matter (New York), Art Metropole (Toronto), Magna Books (London) and Centre des Livres des Artistes (Limoge, France). These will be unsigned copies available in the store / centers themselves. ($20.00) Copies of the limited edition, 48-page newspaper plus aluminum press plates are available directly from the artist at www.scottgerst.com
The so-called utopia of the centre beaubourg –An interpretation by Luca Frei (London, Book Works, 2007, £9.95 paper) is a fictional text by Albert Meister who appears under the pseudonym Gustave Affeupin in 1976, coinciding with the inauguration of Centre Beaubourg in Paris. This fictional text imagines a radical libertarian space submerged beneath the newly erected centerpiece of French Culture. In a world turned upside down, the seventy-six storeys submerged beneath the official center for culture provide a platform for alternative modes of work and creation. Reporting, in sometimes hysterical, sometimes more poetic language, and with tongue firmly in cheek, the narrator recounts the vacillations of free organization, in a satire that never takes its eye off the main target: state-sponsored culture.
This is the first translation and publication in English, a project undertaken by the artist Luca Frei as an attempt to both revitalize a significant cultural treatise incorporating many elements of Meister's sociological thinking, and to reflect upon the subjective role of the artist in transferring ideas from one cultural framework and era to another.
Luca Frei, born in Lugano, now lives in Lund, Sweden. In his work, he consistently explores the borders between art as an autonomous aesthetic practice and as a participatory public process. The book is co-published by Book Works and CASCO, Office for Art, Theory and Design, Utrecht, edition of 1000, 208 pages, black and white.
LITTLE BOOKS
Preset by Peter Downsbrough is another in a series (long-term) of directional words and coordinate photographs and diagrams to direct the reader/viewer through the thought patterns of landscape and cityscapes designated by the artist. Published by Center for Contemporary Art Wielermans-Ceoppens project for an exhibition in 2003. $12.00 paper
(I read) is an energetic album of paintings of readers from all walks of life, some quite credible, others whimsical and fantastical–but always with books–personalities built with simple tools and simple colors, bubbles without outlines with eggplant noses, simplicity itself making readers of us all. Works are by Puño, and this wonderful book costs $9.95.
Nook by Zin Taylor is a conversational documentary recording Martin Kippenberger's Metro-Net Station in Dawson City, Yukon. The Metro-Net is a fictitious subway system conceived by Kippenberger as a global means of teleportation, with entrances and exits around the world. The Dawson City stop was built by Reinald Nohal next to his hotel, Bunkhouse, in Dawson City, constructed from locally sourced spruce logs. It is the only structure in Dawson City that descends below ground.. This little book of color photographs of the station, its locale, its surrounding context, a poster about Kippenberger, details of the door, the wood, the statement of its being useless but not senseless, details of painted stones, cans of paint, details of drawings, plus instructions how to get to Dawson City are included. $20.00 paper
A Field Guide to Weeds by Kim Beck (New York, Printed Matter, 2007, $25.00 cloth) masquerades as a 19th century pocket guide, but a guide in which the weeds themselves have taken over. Beck's innovative project uses the physical form of the book as a metaphor for a crack in the city sidewalk: printed in luscious five-color printing, the common dandelion, pigweed, and poison ivy—the very plants we ignore, step over, ignore, dig up, or scrupulously avoid—creep out of the gutter, up pages, and overrun the book. Multiple silhouettes overlap and repeat, drawing the reader's attention to the overlooked. The book features a black silk ribbon marker. This is a splendid example of what an artist book really means.
Journey by Ferry to Celibate City or Thigh Town by Derek Van Gieson (Kalamazoo, MI, Trestle Kitty Publication, 2006, $12.95 paper) is a collection of Derek Van Gieson's short fiction, photographs, and delicately rendered ink drawings that feel like a year's stream-of-consciousness or unending desire to communicate in a literate, talented way. As a collector of men's diaries, this would be one of the highlights!
Boring #4 by David Horvitz David Horvitz (Rennes, France, Tony Papin, 2006, $1.00 paper) is the fourth in a series of artists' books. This edition, by Los Angeles-based artist David Horvitz, is comprised of 16 photographs, tracing the duration of dusk in Palos Verdes, California. The result is a meditation on the genre of landscape, and its evocation of time and memory.
Islands Fold is an independent publisher and artist residency created by Angela Conley and Luke Ramsey. They invite artists into their home, support creative identity, collaborate, promote health and well being and produce unique art. Located on Pender Island, B.C., Canada, the residency is offered at no charge to the artists. For more information contact www.islandsfold.com Two of the titles that have come from a residency are:
Book Three: Galactic Milkshake by Daniel Gonzalez and Luke Ramsey, pages of convoluted drawings which have a circular and geometric basis, some done with color, but mostly black and white. ($5.00 paper)
Book Six: Spirit Soup, a comic book with small animals scamping over the pages with a feeling of manga, by Kinoko and Luke Ramsey ($7.00 paper)
Bird Radio/Vogelradio, An Operator's Manual by Bill Burns (Berlin, KW Institute for Contemporary Art, 2007) is the result of an installation in Berlin, but also published by the other venues where the installation will be shown at Kitchener-Waterloo Art Gallery in summer 2008 and published by Verlag der Buchhandlung Walther König, Cologne, in 2007. Bilingual text/English-German.
This little book is a jewel, with color photographs and diagrams of the tools to create 17 different birdcalls created by small tools which must be operated to create the appropriate birdcalls from song thrushes to cuckoos, from woodcocks to common loons; these little machines help create "bird radio" via transmitter, antenna, etc. all depicted in 20 beautiful line drawings. What a beautiful gift for bird lovers, artist book collectors, and people who love books!
Available not only from Printed Matter, but also from Buchhandlung Walther König from order@buchhandlung-walther-koenig.de; for UK & Eire, Cornerhouse Publications, Manchester and e-mail: publications@cornerhouse.org. For Canada & Outside USA & Europe, contact them at www.artmetropole.org A special edition numbered 1- 50 with a 33rpm vinyl record included is available by the artist Bill Burns at: animalsafety@gmail.com
Bill Burns is currently showing his project "Bird Songs for Berlin" in the garden at KW - Institute for Contemporary Art in Berlin and will produce "0.800.FLORAFAUNA" at the Institute for Contempoary Art in London in 2008. His editions and books are included in several collections including the MoMA, New York, Tate Britain, London, and the Arts Institute, Chicago. He lives in Toronto. For more info about Bill Burns' projects check…
PERIODICALS
Flyng Haystacks V by Tod Hensley (Brooklyn, 2007, $8.50 paper, ed. Of 150) continues the collection of collages, found imagery, gridded imagery combined with painterly color, found photos, with great black and white endpapers.
Cold Heat 4 by BBen Jones and Frank Santoro (Brooklyn, PictureBox, 2007, $5.00 paper) is the fourth installment of a 12-issue series following Joel Cannon's adventures as he is abducted by aliens (or on a bad acid trip). The whole comic book is printed in pink and blue. Included is a feature page of "The Mole Machine Diaries".
La Commissure, no. 1, Winter 2006 is an album of graphic wonders by a large group of artists, such as Freddo, Oskar, Andre Lemos, Zeke Clough, Tommi Musturi. Yann Comic and others. "La Commissure" is an anatomical term meaning the joining of two bones or the place where upper and lower eyelids and lips meet, as befits most of the drawings which depict parts of the human body. Color printed drawings alternate with black and white, some are large and others are small inserts, as well as colored papers are used to enhance the black and white illustrations. The variety comes from Stratégie alimentaire in an ed. of 200, $10.00 paper.
Untitled (New York Feature, Inc., 2006?) is a collection of works that range in theme from language to transgression to photography. Includes works by RIchard Kern, John Waters, Mark Gonzalez, Joahnne Greenbaum, Gardar Eide Einarsson, Chris Burden, General Idea, ; also includes interviews with Ryan Trecartin and Mark Leckey includes pages 106-114 of Dennis Cooper's The Childish Scrawl, and pages of Marguerite Sechehay's Reality Lost and Regained. Untitled with no masthead: only captions and various artists' contact information.
Daddy no. 2 (Los Angeles, Javier Peres, 2007, $10.00 paper) is a quarterly journal project, with a painted latex cover, an emphasis on a feminine presence in the guise of "Lady Daddy". There are supergraphics, full-color photographs, a visual documentary by Matt Greene on feminine from high to low, an interview between Serio Misterio and Los Angeles legend Sean de Lear. The collection of famous and not so famous works of art about women from Alice in Wonderland to Mary Martin, from Mary Poppins to classic African masks and much more. Strangely haunting.
AUDIO/VISUAL BOOK
dTaRnAcCeE dMaUnScIeC by Alec Finlay and Andrew Hodson (Newcastle-Upon-Tyne, UK: Morning Star and Platform Projects, 2006, $24.00 book plus dvd) DtArNaCcE, obviously juxtaposing the constituent letters of Dance and Trace, is a recording of a British dance class performing on location, which were subsequently processed into DmAuNsCiEc by Andrew Hodson. Hodson has also animated a poem in response to the process of viewing the dance.
VISUAL POETRY
From Haiku to Lyriku, a participant's impressions of a portion of post-2000 North American Kernular Poetry by Bob Grumman (Port Charlotte, FL, The Runaway Spoon Press, 2007, $20 postpaid paperback) is a study of contemporary haiku and haiku-related poems with many specimens that provide a full-scale survey of what's been going on in North American poetry for the past fifty years, particularly at the end of the poetry continuum opposite from the end inhabited by the work of Richard Wilbur, John Ashbery, Rita Dove, Billy Collins, Jorie Graham, etc. and long almost completely ignored by the poetry establishment (i.e. Helen Vendler, Harold Bloom, The New Yorker, etc.)
This is an engaging study, one which is quite de riguer, since many people depend upon daily haikus delivered on their computers for the encouragement needed to go forth, – that wonderful Japanese woman who was in the camps and wrote haiku everyday of her stay in the Japanese camps and then was awarded a lifetime achievement award, who died two weeks after she returned home from getting the award brought haiku upfront for a few days.–so this book is so clear and so informative with great illustrations, wonderful examples, and a thorough examination of haiku as a form and as a pleasure, always seeking a definition.
Grumman, who is editor of periodicals for Small Press Review, presents us also with his own poetry–and analyzes it as a master–so the book overall is a reference book and a book referencing Grumman's poetry, which is known throughout the poetry world as well as the visual poetry circles. He discusses fellow poets such as Jack Kerouac, Gary Snyder, John Bennett, Jerome Rothenberg , Ron Silliman, Peter Finch, Ian Hamilton Finlay, Geof Huth, Karl Kempton and so many more. You may change your mind about poetry after reading this book. 255 pages, ISBN 978-1-57141-07
ARTIST- PUBLISHED BOOKS
Valor: Filipino World War II Veterans Memorial by Cheri Gaulke with essays by Betty Ann Brown, Enrique de la Cruz, Eric Garcetti, Eleanor Heartney and Mae Respicio (New York, Midmarch Arts Press, 2007, $ 20 hardback)is the result of the artist being commissioned to create this memorial, the first of its kind I the United States. Designed by Los Angeles-based artist Cheri Gaulke, it tells the story of over 120,000 Filipino soldiers who fought in WWII as the United States Army Forces in the Far East (USAFFE). Filipinos endured some of the fiercest battles of the war and many died on the infamous Bataan Death March. At the end of the war, Congress stripped the Filipino veterans of the benefits they had been promised, which they have been struggling to regain for the last 60 years. This lavishly illustrated and informative book fully documents the content, design, and historic context of this important memorial.
Commissioned by the City Council President of Los Angeles, Eric Garcetti, Gaulke went about talking to two survivors of the World War II and heard their words and the horrors which they were describing, yet still full of hope and optimism. They knew that this memorial to Filipino WWII veterans was still a step in the ongoing struggle for recognition and justice, more than 6 decades later over an act of betrayal. Their participation in World War II (some 200,000 Filipino soldiers some of whom died in the battles of Bataan and Corregidor) were promised full military benefits and citizenship. But Roosevelt reneged at the end of the war, and Congress passed a law in 1946 declaring that service by these soldiers shall not quality for benefits under the G.I. Bill, denying them medical care, home loans and educational grants.
One can realize how this memorial truly is significant for the large Filipino population in Los Angeles, one which has 200,000 that pay taxes, build homes, and create families and has been doing so from the beginning of the 20th century. The Memorial is so important to this segment of Los Angeles, where five steles tell the story of the community and how it grew, what it contributed, and their battle for full equity and honor. The book is fully illustrated with photographs from their history and photographs of the dedication of the monument, which is completely described by the artist.
Eleanor Heartney writes about anti-memorials, where people are allowed to speak and concealed events are brought to the surface. She includes Gaulke's Filipino Veterans Memorial as one of these monuments with an interest in the ragged edges of history, elaborating on the injustices still being suffered by the Filipino veterans of World War II. Betty Ann Brown writes about the "remarkable artistic career of Cheri Gaulke" which has always involved raising consciousness, inviting dialogue, and transforming culture. From artist books to public artworks, Gaulke has been at the forefront of both context and technology. This book serves to demonstrate a courage community being remembered by a courageous artist, who demonstrates that the fight for equity is still not won, for Filipino veterans or feminists too.