Volume 29, No. 3, Sep 2006
Mette Ambeck, Book Artist: Bridging Two Countries
Editor's Note: Mette and I e-mailed each other and I interviewed her by asking questions. I enjoyed an article about her in Sarah Bodman's newletter from UWE in Bristol, UK.
Please tell me what led to your taking up courses and a degree about artist books? hat in Denmark led you to start papercutting and bookmaking?Did you learn about bookmaking in Denmark or did the UK experience clinch it for you?
My Bachelor of Arts degree (1999) was actually in Graphic Design (with a side-study in Audio/Visual Media), followed by a Masters of Arts in Communication Design (2000), both from Central Saint Martins College of Art and Design in London. he MA formed an extension of the BA and I used it to further investigate and expand my ideas, as the tutors were very open-minded and already familiar with its directions. had begun seriously making books during the last year of my degree with their encouragement.
It was possible to take a Masters in Book Arts elsewhere, at Camberwell College, though I'm not even sure I was aware of it at the time, so I stuck with the area of study I knew, and tutors I felt comfortable with. (I was the only student at that point with that kind of focus in my work, but, within a couple of years, the same course's final public show contained much work that revolved around the book form. This growth in interest is something I have noted as a tutor myself, and it still continues, with a real interest in processes and means of making that are non-digital, even on graphics courses.)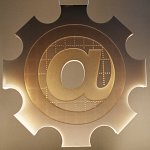 Mail from Cogs, a Book in the Machine (2006)
During the Graphics course I acquired the Mac computer skills that everyone else did, but the fact that I used to enjoy making paper cuts as a child came back to me. I found I was able to revive these traditional interests, and then combine it with thoughts I had on the book form as it existed around me. hen flicked through, the sequences of pages and use of the surface of them just for text or image seemed very predictable. One day I got a blank sketchbook and started cutting holes in it.This led to a series of 10 books ("Plane Pages" - all on the theme of travel for a fictional airline library.) each with a different theme, but all just communicated by cuts.( Titles like; "Fit", "Play", "Welcome" etc.) For this particular project I also first learned how to properly bind a book from one of our technicians.
These books were the showpiece of my 1999 degree show, and only shortly before that did a tutor mention the term 'Artists' Books' to me for the first time. Around this time I visited the London Artist's Book Fair for the first time. During my Masters I investigated more about the field, finding it difficult as there seemed to be no fixed definitions. I also took further night classes in bookbinding.
So, in answer to you question about influences - my time in the UK have definitely been my biggest influence, as before I went there in 1995 I had never made a book.The idea of cutting, though, clearly comes from Denmark, where there is a strong craft tradition, and paper cutting for Christmas decorations and decorative mobiles is very common and stayed with me from childhood. I just happened to rediscover my skills and tie them to new conceptual themes and a working process built from design, not 'fine art' study.
I see that you have diversified into lighting, graphic design, etc. Has that improved your take on various structures in bookmaking–or has it extended what you already know?
I think the types of book I make have suited the incorporation of light and light sources in a number of ways. uring my Masters I really started to experiment extensively with the book tructure, and the element of light has been there from the beginning. I tend to work with white paper, as the colour-neutral environment it creates offers the viewer/reader changing moods and palettes created by the shifting light.
Since I was a child I have had a strong interest in photography, which has also made me value and seek to understand light. n added interest in animation has further informed the content, as most of my books also work with sequenced pages and build effects through the turning of them during 'reading'.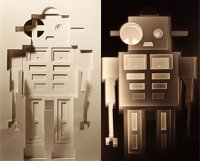 Boy from Boy Meets Girl (2000)
With my first series of books I began experimenting with animating the turned pages, and the later "Boy Meets Girl" was even sold with an accompanying animation, shot with traditional rostrum camera techniques that also gained much from controlled lighting. ore recently I have developed popular gift cards (see my website) reflecting the cuttings of the books but which also work very well when placed near light sources. Some experiments with limited edition decorative lights (for a London shop selling Danish design, in 2003) led me to consider more elaborate lampshades, looking to other production methods like laser-cutting, with sponsorship from an interested investor. More recently the market here is flooded by laser-cut lampshades in all variations!
Have you distributed your limited edition handmade bookworks yourself–or is being in a group exhibition allowed you to find a home for your work?
I mainly tend to sell my books myself at Artists' Book Fairs or by order, though occasionally I have also sold through shops, such as the bookartbookshop in London. The commissions are generally pretty high, but the exposure and connections can lead to interesting sales (in this way I placed work with The Victoria and Albert Museum's archive). In 2000 I decided, with my partner Mike Nicholson, to share a table at that year's London Artists' Book Fair at the Barbican, organized by Marcus Campbell. (Mike writes and illustrates limited-edition 'zines'.) Since then have we shared stands at various Artist's Book Fairs in the UK. (As a sign of the growing interest here there are two new big fairs in coming months, at Manchester and Bristol.)
What did you learn about the history of artist's books in your journey? Do you see yourself as an extension of a group of other artists, or do you find yourself breaking the mold?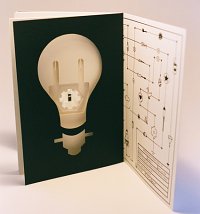 10+ (2006)
I feel I still have a lot to learn about the history of Artists' Books. While I have read up on the subject, I think what I have really learned from is meeting other artists at fairs. For,example,in 2004 I was invited to attend the First Artists' Book Fair in Seoul by Narae Kim, and there shared a hotel room with Helen Douglas (Weproductions), and it was great hearing her story and experiences.
For me today the Book Fairs also act as great social events, where networks and friendships are built, and experiences shared. This is very important to me, thought I'm not part of any group, and it has actually never crossed my mind to be in one. I have just been so used to doing the work on my own, as I always have all through my college time.
Tell me what did you see in the Finnish show of 'BookBlast', Lönnström Art Museum Rauma, Finland held 10th June - 24th September 2006? Is there a difference in bookworks made in the Scandinavian countries from the rest of the books you have seen in your education and journeys, or does it continue the same line that most books are taking, made better, with new technology, and less handcrafted work?
I was unable to attend the show itself, as Finland is actually some distance away, but submitted new and old pieces at the invitation of Kati Kivimaki. (The new pieces are part of a sequence reflecting modern society's relationship to technology, called "Cogs - a Book in the Machine" , others of which are also to be exhibited at The London College of Communication Gallery before Christmas this year. You can view examples on my website under installations.
However, in 2005 I was invited by Sarah Bodman to write an article for the Artist's Book Yearbook 2006-2007, specifically about artist's books in Scandinavia. The piece,"Paper Vikings, Virtually - Scandinavian Artists' Books", allowed me to investigate something I really knew little about. While my own work has gravitated towards the UK sphere of influence, I found that the Scandinavian network is more based around Eastern Europe, Germany and perhaps France. As with the field elsewhere, and what I see at fairs, there is a huge range of work, processes and themes that is not easy to categorize.
As I said earlier, there still seems just as much hand-crafted work in evidence, though artists might use 'new technologies' to further their research as well as some details of production.
In what direction do you think you will go now that you are established as a bookmaker and designer? Do you have some new ideas up your sleeve?
I have actually just started studying on a 2 year Masters Course in Copenhagen in Digital Design & Communication, to broaden my knowledge of the web and all that comes with it. My intention in doing that is to possibly try and marry someof what I do now with something more web-based, perhaps investigating e-publishing or 'print on demand'.
Who has influenced you most in the making of your bookworks?
I don't know that is has been so much other book artists that I have been influenced by. In fact for a long time, once I began to move into this area and create work with an audience at one of the book fairs perhaps in mind, I actually avoided looking at other artists' books, especially those that people thought mine were inspired by. I did not want to even subconsciously 'copy' ideas in any way. Now, with a track record of my own pieces and style, I feel more at ease and don't think about it too much. I get inspiration from many things, like architecture, nature, people,movies and animations, but no fixed thing, movement or artist.
What direction do you wish to go now that you have found a niche for yourself? Do you see a new direction for your work?
I would love to continue developing my work, and definitely hope to add new dimensions via the web-related course I'm now attending. I have always used the Mac as a way to create design details within my broader work, as well as allowing me to control the printing involved, but I also wish to keep the tactile and craft element alive.
There is humor in your work, besides an incredible amount of savvy in papercutting and structures? Did you learn that in the UK or did you experiment by yourself?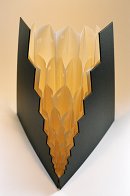 The Jante Law (2003-2004)
I believe humour is very important in communicating ideas, even in subtle ways, so I always try to bring some of it to my work. The Danish and English senses of humour are quite similar, often a bit dark and shocking, and I also love the work of U.S film-maker Tim Burton.
My appreciation of material matters, like appropriate papers and how easy they are to shape/cut/merge continues to grow with experience. The structures I create are according to the topic of the individual book, and I think it is important that the form follows the content if possible, adding a structural element to the ideas. That is part of what I love about making books and experimenting with their formats; the form can also become part of the message.
Traditional structures are bent, twisted or broken, but I always work with the aim that if it needs to be a book, it needs pages, binding and interactive movement in the 'reading' of it.
Do you like living in two different countries? Does it inspire you or tire you?
London does inspire me a lot, but I must admit it also gets very tiring to be on the move so often. These are the difficulties of having loved ones in two countries. The fairs tend to be in the UK, and I regularly teach at a number of art schools there, too, where my work proves popular and relevant to a number of different disciplines (graphics, illustration, animation). Meanwhile, my offer has offered me great support in a cost-free base for my work in Jutland these past few years. Making Artists' Books in Europe is not an easy way to live, but sometimes you must have to be true to your own skills and do what you have to do.