Volume 29, No. 2, Jun 2006
Mail Art and Visual Poetry
MAIL ART NEWS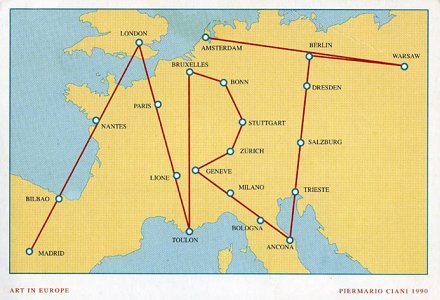 In Memoriam:
PIERMARIO CIANI, born in Italy on June 19th 1951, was teletransported into another dimension in the night of July 2nd, 2006. He was for over three decades a first class cultural agitator, (mail) artist, photographer, designer and organizer of publications, exhibitions, meetings and collective projects in a networking spirit. He invented and promoted the international group/music label TRAX in the 1980's, Stickerman's subliminal street art and the "collective identity" Luther Blissett in the 1990's, the Funtastic United Nations (F.U.N.) for a creative planetary de-globalization in the new millennium, just to mention some aspects of his many-sided genius. Piermario also founded with Vittore Baroni in 1995 the small imprint AAA Editions (www.aaa-edizioni.it), that published several books on counterculture, the networking arts and also unusual anti-books and object-books. He will be greatly missed.
— Vittore Baroni
From Vittore Baroni: May 26th at the opening of the exhibition GOOD VIBRATIONS - rock and the visual arts at the well known contemporary art museum Palazzo delle Papesse in Siena (until September 24th). Included in this rich overview of the interferences between art and rock music are, for the first time exhibited in Italy, some works by Ray Johnson, pioneer not only of mail art but also of pop art with his seminal Elvis Presley collages: attached a photo of show curator Marco Pierini in front of some Ray Johnson works. In accordance with the law of correspondences that always pertained to the American artist, while I was visiting Ray's room I suddenly (and without any apparent reason) sneezed. Raising my eyes, I found in front of my nose the ink drawing A Book of Sneezes…
Artetica in Rome alternates between exhibitions of mail art and book art. Situated in Rome at Via dei Marsi 18 in the San Lorenzo section of Rome.
MAIL ART CALL
Images Against War. Any medium, no deadline. Jpegs or any snail mail. No jury, no returns. Exhibition in the web: Image Gallery Against War from Boek 861. Send to:Taller del Sol, Apartado 861 43080 Tarragona, España. Put your own image in: boek861.com/no_war/index.html
Brain Cell Fractals. Ryosuke Cohen. Send him 150 stickers, artistamps, rubberstamps, etc. and he will send you a list of participants, a beautifully produce color print of all participants' work. Send to Ryosuke Cohen, 3-76-1-A613 Yagumokitaho, Moriguchi-City, Osaka 570, Japan. braincell@k6.dion.ne.jp
Neo DADA. Ongoing project. Send self made postcards 4 x 6" (10.1 x 15.2 cm). Any medium, no envelopes, documentation to all, no returns. Online gallery and possible exhibition. P.O. Box 661, New York, NY 10116.
Shadow Play. Slightly serious artist seeks fun, intelligent shadows for international art project. Blondes, brunettes and redheads preferred, but all shadows welcome. Please send a photograph of your shadow with your name written on the back. Shadows to feature in upcoming exhibition. Send to Wei-Ho Ng, Chelsea College of Art, Manresa Rd., London SW3 61S, England. artshadow@hotmail.com Deadline:ongoing.
Send a photo of yourself standing or sitting in front of your bookcase or bookshelves. No deadline. Answer to everyone. Bibliotheca Gullbiana, Staai 41, NL-6127 AB Grevenbicht, The Netherlands.
Lonely Pet Rocks. Send your own pet rocks and stones to the curator of the UFO museum: Lex Loeb, PO Box 6056, Portland Oregon, 97228-6056 USA.
Artist Trading Cards. Send 20 cards (ed. of 20), size: 64 x 89 mm (2 ½ x 3 ½ inches). Sign, date and number the cards on the back. No theme, no deadline, ongoing project. You will get a set back. Send to M. Vanci Stirnemann, Dufourstrassse 132, CH-8008 Zurich, Switzerland. www.artist-trading-cards.ch
The Beatles Forever. Postcard size 10 x 15 cm. The Tree of Poetry, Tiziana Baracchi, Via Cavallotti 83b, I-30171 Venezia Mestre, Italia. No deadline.
Pebbles. Project based on Zen philosophies and the global consciousness of creative individuals interacting with their native landscapes. Please send pebbles (actual stones) and photographs of those pebbles in the designated environment. E-mail the photograph you have taken with the location, place name, country and your name and if possible send the pebble through the mail. Beth.Richards100@students.plymouth.ac.uk
Key & Locks. No rejects, no returns, documentation to all. Please contribute unused keys to unknown locks. Send to Sean Whatever, P.O. Box 8804, South Charleston, WV 25303 USA.
Exquisite Corpse. Participants are asked to send 3 images and 3 words on separate sheets: 1. Head, 2. Torso, 3. Legs, and 4. Three words. Any media, up to size 8 ½ x 11" that will be mixed and matched with other artists' work at random to complete a finished piece. The work will be shown as part of an art show in Toronto, shown online and be used for another project to be announced. Anyone interested in collaborating, contact Exquisite Corpse, 87 Sparkhall Ave., Toronto, Ont. M4K 1G7, Canada.
Bibliomancy. A species of divination performed by selecting passages form a book haphazard. Just open the book at random, and the passage you touch by chance with your finger is the oracular response. Send your oracle to Bibliomancy, 214 First Ave. South, Suite B13, Seattle, WA 98104.
Unarmed is a small adventurous poetry journal connecting visual poetry and experimental poetry. Just received issue 39 with a focus on war/peace issues as result of the Iraqi crisis. For contributions or information: Unarmed, 1405 Fairmount, St Paul MN, 55105 USA. Email: unarmedjournal@hotmail.com Website: www.unarmedjournal.com
Just Imagine. The Deer Trail Studio Tour Postcard Art Show will run in conjunction with the 2006 Deer Trail Studio Tour. Artists from around the world are invited to submit a postcard-sized piece of original artwork to us. There will be no jury, no fees and no return of artwork - all artists will receive documentation after the event. All received postcards will be viewed by approximately three thousand visitors during the 2006 Deer Trail Studio Tour weekend. (September 23rd & 24th, 2006). All postcards will be auctioned off in a silent auction will all the proceeds to be donated to Cancer Research. The theme of this postcard show is "Just Imagine" - Let Your Imagination Run Wild. Postcards must be received before September 1st, 2006 to be included in the show. Postcards submitted must be an original drawing, painting, collage, mixed media piece, poetry, or short story created by you and must fit on a standard postcard dimensions. (4 inches by 6 inches) The artwork on the postcard can be either horizontal or vertical. Please no nudity, overly religious artwork, racist, or pornographic art. This show will be viewed by the general public which will include children. All received artwork will be exhibited September 23rd & 24th, 2006 at the Lester B. Pearson Civic Centre. All artwork can be mailed as a postcard or sent inside an envelope. Please include on the back of your postcard - Your name, full mailing address, title of artwork, medium and email address, (website if you have one). All postcards to be mailed to: Deer Trail Studio Tour Postcard Art Show
Joseph Brann
44 Albert Street
Elliot Lake, Ontario, Canada
P5A 2Y8
For more information – please contact: postcard@deertrailstudiotour.com
Fish. Call for Entries. As only water separates us, the fish has become our symbol of missing and longing, of desperation and hope, of love, desire and union. Frantic lives just meters away from the Atlantic and stares day in, day out at the horizon of the ocean. Antic-ham, when walking along her river in Seoul can feel the wind coming from the west, and hear the message of the fish. Soon both will become fish and unite in the waters. Already in early religions, the fish was a symbol of desire, union and fecundity, as well as a symbol of the power of the female sexuality, thru a multitude of goddesses with fish symbols, or mermaids, nymphs and water spirits. Send one or more fishes. Postcard size. Deadline 30 April 2007. Color catalogue to all participants. Possible exhibitions. Send to address of your choice, or to both: Frantic Fan Mail , Dugort, Achill Island,County Mayo. Ireland OR Anticham (Kim Hye Mee), Gangnamgu Gaepo 2 Dong , # 3 APT. 310-510, Seoul 135-800 / South Korea.
Red Letters. Use red ink and write a text of 20 words accompanied by a drawing. Add time, day, month & year. All the red letters will be scanned and put on this website: 20words.org View the web gallery to have an idea of the project. If you want to receive a red letter from another person, add also a self-addressed envelope and a SASE (this is only for US participants). Red Letters, CC #2272, 16800 Point Lookout Road, St Mary's City MD, 20686 USA
"…Keep the ball on the move…"
Stemming from a snippet of a Quote by Ray Johnson I have proposed to do a Mail Art Project, sending Marbles across the world. I will roll each marble in a performance in Cardiff, Wales UK. Then send the marbles out by mail to different participants.
From here I want you to roll the marble and record this action; photo, drawing or simply noted documentation of where the event of the roll happened. Then… Send the documentation back to me and the marble with instructions and details of the journey onto someone else. You will receive documentation on the marble's journey.
If interested in this Mail Art Project please email me your name and address. Thank you so much. Really hope you join the roll! Alice Evenett loosest_goose@hotmail.com Visit www.lissyloo.com for more information. There is no current deadline.
Mailmania 2: 2nd Biennial: An open call for submissions for an upcoming exhibition of all forms of mailart. Post Cards, ATCs, Artistamps, envelopes, or whatever makes it through the post. Exhibition Space: The Victoria College of Art ( now the new ATC headquarters) 1625 Bank Street, Victoria, BC, V8R 4V5 website: www.vca.ca No returns, electronic documentation to return email addresses. Documentation to all. Deadline; 4 September 2006. Opening: 22 September 2006.Send submissions to: Dale Roberts Studio J-1324 Broad Street, Victoria, BC V8W 2A9 Email: daleroberts@shaw.ca
Global Warming. Photographs, e-mails, cartoons, collages, poems, visual poems, paintings, prints, digital images…Deadline: 30 June 2007. Postcard size only. Your work will be displayed on my website. No jury, no fee, no returns. Send to Sinasi Gunes, Abide-I Hurriyet Caddesi Arslanoglu Apt. 80/18, Sisli/Istanbul, Turkey.
Public Art. Postcard size. Any medium, visual poetry wanted. No jury, no deadline, ongoing project to introduce the community of Prescott, Arizona to mail art. Works will be on display at Prescott College in Spring-Summer 2006. Documentation to all. Send to Grace Vajda, Prescott College, Mailbox 580, 220 Grove Ave., Prescott, AZ 86301 USA. Please include your e-mail or snail mail address.
Call for Books and Zines. Seeking donations for "independent reference library"in Kosovo, former Yugoslavia. Kosovo is a struggling country with an average monthly salary of $30 and unemployment at 60%. Any zine or book donations are welcomed. Also T-shirts and postage stamps for children's collections. Send to Switzerland and it will be forwarded since it is more secure. No internet access. Send to RLP, c/o PF44, CH4142, Munchenstein 3, Switzerland.
MAIL ART BOOKS
Postcarts: Cartoline d'artista by Vittore Baroni and various authors (Roma, Coniglio Editore, 2005, 15 euros in Europe and $20.00 elsewhere including postage) is a blilngual text completing the trilogy devoted to various aspects of correspondence art including Rubber Stamp Art by John Held Jr . (1999) and Artistamps-Francobolli d'Artista by James Warren Felter (2000). Beginning with the pioneers of historical avant-gardes, Postcarts reconstructs in over 200 pages the vicissitudes of artists' postcards, ranging from the conceptual mailings of Fluxus to the multicolored oddities of the planetary circuit of mail art, from unusual "unique pieces" to the most stimulating alternative and New Pop editions, up to the phenomenon of promotional free-cards and to the virtual e-cards via the Internet. Richly illustrated, the book includes original texts and materials selected by artists, experts and publishers of postcards: Anna Banana, Julien Blaine, Guy Bleus, Mario Giavino, John Held Jr., Jonosz Kubas, Jurgen O. Olbrich, Enrico Sist and Enrico Sturani. Recommended for all contemporary art collections, for this involves Ray Johnson, Fluxus, Beuys, Gilbert & George, humor (Anna Banana) and politics (Klaus Staeck) and so much more. Bibliography and Index. Published in association with AAA Edizioni at www.aaa-edizioni.it
The book may be purchased directly from the author by sending well hidden cash in envelope or International Postal Money Order (no check or add $5.00 for bank costs) to Vittore Baroni, Via C. Battisti 339, 55049 Viareggio, Italy.
Memorie di un Cartolinaro: Aneddoti divertenti e surreali di una vita da collezionista (Memories of a Postcard-er: Diverting and Surreal Anecdotes of a life by a collector) by Enrico Sturani is another in the series by Coniglio Editore, 2004, 14.50 euros) is a memoir of one who has collected postcards for decades, chronicling meetings with personalities both professional and dilettante throughout Europe, failed transactions, shipments of enormous packages and valises full of postcards, unbelievable chance operations, absurd bureaucratic complications with postal authorities.
Finding shoeboxes the most efficient storage vehicle for postcards, Enrico Sturani tells of his journeys from Switzerland to Japan to the United States meeting conservators in museums, avaricious gentlemen, maniacs and specialis from all parts of the world. There is irony, sarcasm, but lots of humor as well emphasizing the marginal role that a collector holds, but that includes almost all of us. Only in Italian, but hilarious. Should be translated. Order from Coniglio Editore, Piazza Regina Margherita 27, 00198 Roma, Italy.