Volume 31, No. 1, Mar 2008
Shows Not to Miss
The Collections of Barbara Bloom through 4 May at the International Center of Photography, 1133 Avenue of th Americas at 43rd, New York City.
Jasper Johns: Gray through 4 May at the Metropolitan Museum of Art, Manhattan.
Moore at Kew, the largest outdoor show of the British sculptor ever seen in London through 30 March
Superheroes and Shlemiels at the Jewish Historical Museum in Amsterdam, an exhibition of Jewish artists who have brought their collective memory to comic art , covering Superman, Batman, Captain America to the Fantastic Four and Spider-Man in th 1960s, opening 6 March through 8 June.
Enchanted Stories: Chinese Shadow Theater in Shaanxi at the China Institute in America , 125 E. 65th St., Manhattan through 11 May. Performances on 6 April at 1:30.
Art Does not Equal Life: Actions by Artists of the Americas, 1960-2000 at El Museo del Barrio through 18 May.
Archive Fever: Uses of the Document in Contemporary Art at ICP through 4 May.
Picturing New York: The Art of Yvonne Jacquette (through 4 MAY) and Rudy Burckhardt (through 13 April) at the Museum of the City of New York, 1220 Fifth Ave at 103rd St.)
Design and the Elastic Mind at MOMA through 12 May.
Chimneys and Towers: Charles Demuth's Late Paintings of Lancaster at the Whitney Museum of American Art, through 27 April.
Disorderly Conduct at the Orange County Museum of Art, organized by Karen Moss, through 25 May.
Cai Quo-Qiang: I Want to Believe at the Guggenheim Museum, Manhattan through 28 May.
Jan de Cock: Denkmal 11, Museum of Modern Art, Manhattan through 14 April.
Wack! Art and the Feminist Revolution at P.S.1, Long Island City, Queens through 12 May.
Gary Panter at Aldrich Contemporary Art Museum in Ridgefield, Connecticut through 31 August. aldrichart.org
Styrofoam, curated by Judith Tanenbaum at the Rhode Island School of Design through 20 July with participants such as Shirley Tse, Heide Fasnacht, Richard Tuttle, Bruce Pearson and Steve Keister.
Close Encounters: Irving Penn's Portraits of Artists and Writers on exhibit at Morgan Library & Museum in New York through 13 April.
California Video at the Getty Museum, co-sponsored by the Getty Research Institute through 8 June.
RESOURCES
Eight years before it anticipated opening on the National Mall in Washington, the Smithsonian's National Museum of African American History and Culture is up and running online. An interactive website (nmaahc.si.edu) allows visitors to help produce content for future exhibitions through essays, vignettes or recorded oral history.
Susan Kapuscinski Gaylord has just posted three videos on youtube with directions for making children's books: Hot Dog Booklet. Accordion Book, Stick and Elastic Book
New website for 20th-century Art Archives in Cambridge, UK: www.20th-century-art-archives.com
Artists' talks on artists' books web archive is now online, culled from a one-day symposium at Winchester School of Art at www.bookarts.uwe.ac.uk/winarc07.htm
The National Art Library (NAL) at the V & A has recently launched a visual database of artist books featuring a selection of objects from the collection, featuring over 100 objects from the collection of over 5000 artist books held in the NAL. Some of the objects are shown in 3-D, providing rotating views of some of the more sculptural objects in the collection. See www.vam.ac.uk/collections/prints_books/artists_books/database/index.php
The Joan Flasch Artist's Book Collection at the School of the Art Institute Chicago has launched an online searchable database of visual books in their collection, you can search by artist/author/title/image etc. See digital-libraries.saic.edu/cdm4/index_jfabc.php?CISOROOT=/jfabc
UMBRELLA NEWS
Contributions to Umbrella Museum
Anna Banana, Claire Isaacs, Claire Satin, Charlene Matthews, Genie Shenk, Julie Dermansky, Jennifer Henderson.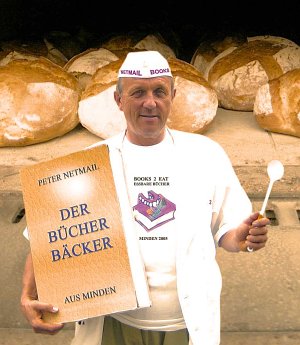 Peter Netmail: Baking Books