Volume 31, No. 1, Mar 2008
Artist Book Reviews
Most of the books reviewed here are available at Printed Matter, at 195 10th Ave. (between 21st and 22nd St.), New York, NY 10011. www.printedmatter.org
REFERENCE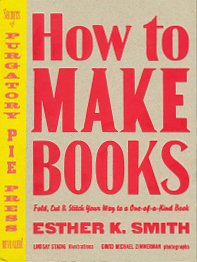 How to Make Books: Fold, Cut & Stitch Your Way to a One-of-a-Kind Book (New York, Clarkson Potter, 2007, Potter Craft, $25.00 hardcover) is the result of more than 25 years that Esther K. Smith and Dikko Faust have operated Purgatory Pie Press in New York City. They have collaborated with artists and writers to create beautiful, limited-edition works. Smith shares in this, her first book, 30 projects for bookmakers of all skill levels.
From basic instant book to large sketchbooks, each project is accompanied by remarkable illustrations and instructional drawings by Lindsay Stadig with photography by David Michael Zimmerman. This is a how-to guide to making homemade books with easy to follow, unusual, and intriguing drawings that inspire writers, postcard collectors, or even scrapbook makers to discover their inner bookbinder. Her experience as a teacher allows Smith to explain each step of the process clearly. Includes Resources, Bibliography (selective), and index.
The Book Book by Sophie Benini Pietromarchi (Chennai, India, Tara Publishing, 2007, $19.95 hardcover) quite literally is a book of books by this award-winning publisher. This lyrical craft book is full of ideas and inspiration to help readers write, illustrate and create their own books from everyday materials.
Artists Sophie Benini Pietromarchi invites children on a unique and poetic journey into the world of the book, exploring colors, textures, shapes and feelings. The Book Book demonstrates how to turn these intangible elements into pictorial narratives using such unlikely everday fodder as pencil shavings, onions, dust and leaves. With a dedicated section on book contstruction, this is a practical workbook (to be included in a wealth of other titles) as well as a visual exploration into craft that will appeal to children, educators and booklovers. The book is simple enough to be used by children without adult help for drawing, creative writing, and book making.
The Activated Page: Handmade Paper and the Artist's Book, edited by Jae Jennifer Rossman (New Haven, The jenny-press, 2007, $20 plus shipping) is the third in a series of "Book Arts Essays" by the press. This time paper is considered and a piece of handmade paper is inserted into the cover.
One chapter is devoted to the answers of a survey of artists who make paper and two institutions that support papermaking, entitled "Exploring Art Making Process." Among the artists is Brian Borchardt, Dorothy Field, John Gerard, Jeffrey Morin, Joan Soppe, Claire van Vliet, Caren Heft, John Risseeuw, and Robbin Ami Silverberg. The two institutions are Dieu Donné and the Women's Studio Workshop. The answers are more like conversations and one gets close to the experiences of these many artists and institutions. The survey became a "colloquium" in a special way, thanks to Rossman's perception and intellect.
The rest of the chapbook is a delightful journey through the bibliography, which responds to what are the favorites of the artists surveyed. Many of them have long detailed descriptions and hark back to the joy of the artist book, including several surprises as well. This small book packs a punch and should be in the hands of every artist who makes books, every collector who gathers them onto their shelves, and every distributor who should know how important handmade paper is to these very creative bookmakers.
GENERAL
Contemporary Art Appreciation 101 by Earl Bronsteen (Boca Raton, FL, 2006, $100.00 softcover) is a weighty tome housed in covers of your typical Dalmatian (black and white) school notebook, subtitled How to Understand What's Contemporary Art and What's Snot, citing that the book contains (on the cover) "Everything You Always Wanted to Ask about Contemporary Art but were afraid to know." It's a heavy course, covering current trends in contemporary art and individual artists such as John Currin, Lisa Yuskavage, Janine Antoni, Tom Friedman and all those other artists who have made a "name" for themselves in all the art journals and newspapers. But there is tongue in cheek all the way through this amazing book! It's intense, comprehensive, gossipy, highly illustrated, full of nudes, covering all the bases as indicated in the introduction, where Bronsteen says that"This book will help you understand why a specific work by a particular artist has been exhibited in museums or galleries, when at first blush you might think it belongs in a garbage dump." Indications on the back cover show that the headquarters for the "Earl Bronsteen Online School" is located in delightful, downtown Delhi open 24/7. If Bronsteen didn't have a crew of elves, then he obviously knows how to create a labor-intensive project with special inserts such as a balloon, chewing gum, air freshener for artists who study abroad, a condom made in India, postcards, Nodoz, stickers, a tintype and so much more. And believe it or not, you do learn a lot about the "art scene" wherever it is. There's even a bumper sticker that reads "My student is an honor student at Earl Bronsteen's School of Contemporary Art."
If for any reason you're not interested in Contemporary Art, there are plenty of social mores, diversions, style questions, lifestyle details, and so much more. You can smile while even thinking of "taking a class." And if you want to visit his website (he's represented by O.K. Harris), then go to earlbronsteen.com.
I Love New York, Crazy City by Isa Genzken (Zurich, JRP Ringier, 2006, $100.00 hardcover) reunites and publishes for the first time the three collage books realized by the artist in New York between 1995 and 1996. The original books have been photographed to allow the reproduction of each page. The front cover of this book reproduces the cover of the first original book and the back cover of the third book.
Educated at the dynamic Dusseldorf Academy during the 1960s, she has consistently challenged Modernist imperatives of the relationships between public and private space, artistic autonomy and collective experience. She is known as creating "sculptural" works, but she also uses photography, video, film, collages and collaged books. Yet trained as a traditional sculptor, she is ruthless in breaking the rules, underlining the rejection of traditional understanding of space while reflecting on and disclosing the specific circumstances of their production and reception.
As indicated by these three artist books reproduced together, her work is concerned with what surrounds us and what shapes our everyday existence, from design, advertising, and her most enduring subject, architecture and the urban environment. This is a big book–very big and heavy–she has collected detritis, photographs, advertisements, envelopes, letters, newspaper pages, music sheets–and created visual journals. Without a personal word, phrase or sentence, she certainly maintains that NYC is crazy–and it's chaotic. By the third book, mostly photographic, there is organization, a linearity, a focused resumé of the day with diary entries or journal entries. So she's absorbed and synthesized and found herself in the meantime (dist. by d.a.p.)
The World of Interiors by Marc Camille Chaimowicz (Zurich, Migros Museum fur gegenwartskunst, (dist. By JRP/Ringier) 2007, $49.00 hardcover) has been conceived and realized by the French artist living in London, on the occasion of his solo exhibition at the Migros Museum für Gegenwartskunst, Zurich.
During the 1970s, Chaimowicz's approach to performance, at a time when the norm was a more or less a political or corporeal engagement, was a lighter, more poetic concern with impermanence and evocation. Far from the noisy declarations of some of his contemporaries, his performances were opportunities for the spectators to negotiate their relation to art, and to reflect on their own position. His relation to music shares this interest in unstable states and possibilities.
Looking back over nearly 30 years of work, the artist conceived this publication as a reference monograph and a source catalogue, ranging from his first post-Pop scatter installations to works realized in the 1990s. It simulates a slick journal called "The World of Interiors" but shows the artist's interventions on almost every page, including the adverts. Chaimowicz has a formality and intimacy both in person and in his work, with painting, recalling flat, patterned, diffusely lit interiors as a domestic ritual. His collection of objects and furniture, and the design of his furnishing fabrics, weave a life and a practice of stable perfection. Published with the Migros Museum für Gegenwartskunst, Zurich. The book has the high glossy "journal" set into mauve cloth boards with silver embossed lettering. Distributed by d.a.p.
About Nothing by John Armleder (Zurich, JRP/Ringier, 2007, $150.00) is an artist book displaying three decades of the Swiss artist's drawing practice. Bringing together nearly 600 drawings, this publication follows for the first time Armleder's processes, from his youthful experiences to the present day, passing through his Fluxus and "Neo-Geo" periods. Neither an exhaustive inventory nor a privileged selection, this book is organized chronologically, and in such a way as to rule out questions of significance.
There are 1248 pages in color, and it is a very heavy book. Prolific, Armleder once was part of the Fluxus movement in Switzerland as well as being a fine artist book publisher called Écart, and now he is a very Postmodern artist with projects everywhere. $150.00 hardcover, dist. by d.a.p.
Modern Optical Experiments in Typography: Univers Ultra Light Oblique (1968) by Tim Lee & Mark Soo (Vancouver, BC, READ Books, dist. by JRP/Ringier, 2006, $29.00 softcover) is a collaborative project by Mark Soo and Tim Lee which formally pushes the boundaries of what a book is. The book is blank except for four printed pages containing the text 'Think', 'Fast', 'Hip', and 'pies' set in Univers. Focusing on the year 1968, the artists subtly pull seemingly disparate events together. 1968 was an important year in hippie subculture and it was also around this time that Bruce Nauman made his seminal piece "Pay Attention Fucker" and the year Dan Graham wrote Eisenhower and the Hippies.
Tim Lee is a young Vancouver artist with a growing international reputation. Lee has shown his work at the Vancouver Art Gallery, the National Gallery in Prague, the Kunstmuseum Bern in Switzerland, Musée d'Art Contemporan in Montreal, and the Museum of Contemporary Art Antwerp in Belgium. He has had solo exhibitions at the Tracey Lawrence Gallery, the Or Gallery, YYZ in Toronto, Cohan and Leslie in New York and the Lisson Gallery in London. Lee's work is included in the collections of the Art Gallery of Ontario, the Vancouver Art Gallery, the Museum of Modern Art in New York, and the Tate Modern in London.
Mark Soo graduated with a BFA from Emily Carr Institute in 2001. Since then, he has exhibited locally and internationally in group exhibitions at the Leroy Neiman Gallery at Columbia University in New York, Cornerhouse in Manchester, Westspace in Melbourne and the Western Front in Vancouver. He was included in the third volume of the Vancouver Special series of artistś books, edited by Kathy Slade and Christoph Keller, and published in collaboration with the Charles H. Scott Gallery/Emily Carr Institute Press, Vancouver. Dist. by d.a.p.
Skin, Surfaces and Shadows [A triptych] by Tommaso Durante with text by Chris Wallace-Crabbe is a new limited edition and a stunning new bookwork which pushes the boundaries of art, craft and design by combining digital technologies with traditional techniques and materials. The jacket is an embossed white print carefully protected by a plastic dustcover. With Hugo von Hofmannstal's quotation as a guide "Depth is to be hidden. Where? On the surface" you will have a hint of what the artist intends.
With wrought images and design of the artist and the sculptured words of the poet, Durante tries to explore the surfaces of things and the figurative dividing line of the shadow, with no fear to run the risk of beauty as a side effect. In fact, beauty is everywhere–the paper is heavy and handmade to support the gorgeous imagery of prints which go beyond the double pages to the universe itself. The poet Wallace-Crabbe delivers in words that which the images exude–and is directly on target with words about skin, surfaces and shadows. From race, to global warming, to eye-catchers to the science of shadows, to cinema and photography and the search for truth, the poet follows the artist and captures with words that which is unspoken by the artist. It is a gorgeous duet in which the poet and the artist flit in and out of shadows, skin and the surfaces of paper and life.
The book comes from Australia, where skin, surfaces and shadows are predominant—where the poet is now Chair of the newly-established Australian Poetry Centre in St. Kilda (Melbourne) and where the artist resides, always focused on the edge of art and philosophy, connecting digital technology with traditional media. Edition of 25 and distributed by Vamp & Tramp, South Hall Bldg., 1951 Hoover Court, Suite 205, Birmingham, AL 35226-3606
A Reluctant Heir by Alain Levitt (New York, Forsythian Press, 2007, $20.00 softcover) is a collection of photographs by Levitt, whose camera remains focused on the space between his subjects' interior and exterior lives. In one image, a group of young skateboarders glower vaguely at the viewer, determined to appear tough and nonchalant. In another, an impeccably made-up older woman with manicured nails greets the camera with a practiced, yet genuine smile. In yet another, a man crouches on the ground, completely absorbed in studying the patterns of the carpeting and seemingly unaware of Levitt's presence. As a collection, Levitt's work reads as an open-ended psychological study of how we, as human beings, present ourselves to and take in the world around us. The color photographs are strange and extraordinary, getting under your skin because they are so close to our own lives.
Afterthoughts: A Monologue ([to RS] by Gordon Lebredt (Toronto, ON, YYZ Books, 2007, $20.00 softcover) is a monologue with Robert Smithson (deceased, 1973) in nine sections, or nine stops which, as well as dealing with certain key critical works (The Eliminator, the Enantiomorphic Chambers, the Site-Nonsites, the Spiral Jetty, Monuments of Passaic, Incidents of Mirror-Travel in the Yucatan), also touches on the question of the institutionalization of art, the controversy with Michael Fried, language, film, photography, writing, spacing, and the issue of time.
The essay is written to look like a typewritten manuscript, amplified with many pages of notes, and an afterword which are printed with a more usual typography. The size of the book (32.5 x 21.5 cm) gives one the feeling of a document rather than a bookwork–a manual–a totally conceptual work of art.
The Bastard Word by Fiona Banner (Toronto and London, Canada, The Power Plant and London, The Vanity Press. 2007, $6.50 paper) takes its name from Turner Prize-nominee Fiona Banner's solo exhibition at the Power Plant in London. Banner is a mid-career artist and sculptor who uses language (often monumentally) to examine the intersections of technology, text, and the human body. Printed on tabloid in black-and-white, the copiously illustrated publication includes scholarly texts by Gregory Burke, Cay Sophie Rabinowitz, and the artist herself.
Banner has created works of art made of text, punctuation, with treatment of language as a cornerstone to her art practice that traverses multiple aesthetic, cultural and artistic boundaries. Her comments on each work are priceless. In addition, her interest in the spaces between words and sentences is as critical as the texts themselves. The tabloid format, as well as the newspaper feel to the paper (and it has wonderful sound as well) makes me so happy to enjoy this parody of a newspaper, but an inexpensive way of learning more about this significant British artist!
michael b.–a finding by Tom Trusky (Boise, ID, Painted Smiles Press, 2007, $60) documents a month-long search for answers about a friend's mysterious disappearance in Canada. Friends, relatives and total strangers in France, America and Canada respond to a cyber SOS. Electronic texts and images are presented in chronological order, as arrived or sent.
To be honest and not transparent, some names, phone number and e-mail addresses have been changed to preserve the authors' privacy, but contents of these messages have not otherwise been altered. Text and imagery are "pure" and "found", as well as profane, hilarious, heartbreaking and inspiring – all "accidentally" made on purpose.
michael b. documents not only the passing and permanence of friendships and faith, but also the character of generations, from Aquarian Age to Generation X to the Age of TxtMsgrs, before it concludes with a half-consoling colophon. Ed. Of 100, offset and digitally printed, perfectbound with fold-around covers. Order from Painted Smiles Press, P.O. Box 6414, Boise, ID 83707.
Clouds, The, 3 by Helen Mirra (Zurich, JRP/Ringier, 2007, $45.00 hardbound) reflects the artist's inclination in the past few years to write works in the form of an index. Dislocated from a source text, the entries point out into the world at large. This volume relies upon John Dewey's Reconstruction in Philosophy (1920). While Dewey's book is largely about the conceptualization of ideas, Mirra's project is a materialization of conceptualization, under the auspices of a spare poetics. The pages reflect one line in the index for each page, printed seemingly randomly as it appears in the index. Lyn Hejinian supplies an Afterword. which indicates how Mirra's conceptual form is like sculpture, reading like poetry. Distributed by d.a.p.
Tearoom by William E. Jones (Los Angeles, 2nd Cannon Publications, 2008, $14.00 softcover) is a companion piece to Jones's video of the same name. A work of appropriation, the video Tearoom is a police surveillance film – presented virtually unaltered – of men having sex in a public rest room in Mansfield, Ohio during a three week period in the summer of 1962. This film, used as evidence in court, led to the conviction of over 30 men on charges of sodomy, which at that time carried a minimum sentence of one year in the state penitentiary.
In the book Tearoom, William E. Jones presents the results of research on these cases and on the production of the surveillance film. The book includes a number of historical texts, as well as two new essays by Jones. Tearoom is extensively illustrated with more than 100 film stills, most of them in color. These stills show men from all walks of life who met for furtive sex under the central square of Mansfield, and who went to jail as the result of a law enforcement sting. Tearoom provides a unique view of the clandestine sexual life of a small Midwestern city at the beginning of the 1960s.
Trees Hit by Cars by Adam Frelin (Albany, NY, 2007, $40.00 signed and numbered) harks back to when Frelin was a boy, he was told by his father that trees hit by cars absorb the impact and become stronger as a result of their ordeals. With his book Trees Hit By Cars, he delves further into this notion with a series of 50 photographs documenting scarred and abused trees. Also included in the book is the short story "Arbor" by Charles McLeod and an essay by Toby Kamps, senior curator at the Contemporary Arts Museum in Houston.
Beautifully printed and designed, this book will show you what harm we do to trees–the treesavers in Santa Monica should all have a copy of this bookwork. And the artist-author commiserates with those who did indeed hit the trees and how that changed their lives. A book for meditation and edification.
Clippings 2005-2006 by Kate Shepherd (Boston, Barbara Krakow Gallery, 2007, $15.00 softcover) is a partial record of the correspondence between artist Kate Shepherd and Andrew Witkin of the Barbara Krakow Gallery. Comprised of 30 newspaper clippings with captions handwritten by the artist, it reveals Shepherd's playful sense of humor. With an explanatory text by Witkin.
Drunk Again by Simon Lund (New York, 2005, $35.00 paper) brings together a collection of photographs taken throughout the span of a year of friends and strangers in dive bars across the country. Lund's photographs present an innocent and humorous collage of personal images documenting the art of drinking and wistful inebriation.
Rope Pores by Nate Nelson (Brooklyn, Heavy Tapes, 2007, $35.00 softcover) combines the visual and musical experiments of Nate Nelson. Nelson plays drums, percussion, and electronics in the group Mouthus and sings for Religious Knives. His collection of ink drawings are simultaneously abstract and concrete and often times anthropomorphic. Alongside the drawings is a tape composition composed at the same time that the visual works were completed.
Fast/Days, published in conjunction with the exhibition series of Fast City and Days of Night at the Centro Portugues de Fotografia in Porto, Portugal, ($12.00 softcover) contains pictures from both Fast City and Days of Night, and includes text by Maria do Carmo Serén. Full-page black and white photographs by this Norwegian artist are fascinating, considering the artist as an agitated "flaneur". The photographs have a flavor of film noir.
American Letter by Becky Beasley (London, Laura Bartlett Gallery, 2007, $30.00 softcover) is Becky's first monographic publication and includes large, high quality lithographic reproductions of recent sculptural and photographic works. The publication concept is by the artist. In keeping with certain conceptual parameters of recent works, the publication has been printed on US Letter- sized paper and the design has been developed using a combination of American novel, manuscript and magazine layout systems by British designer Avni Patel. The publication includes the full transcript of a long email conversation conducted throughout July 2007 between the artist and the writer John Slyce, as well as a short reflective letter to the artist by Slyce.
Includes a number of color and black and white photographs of wood grained boxes, boards and imagery. The artist's resumé also closes the bookwork.
Crossroad by Yuri Shibuya (Tokyo, 2007, $7.00 paper) includes black and white portraits of skateboarders both on the street and off. Young, smiling, and coming from a variety of cultural backgrounds, Shibuya's subjects appear to be as smitten with her camera as her camera is with them.
LIMITED EDITION
Silent Nests by Vicki Topaz (San Francisco, 2007, $750.00 hardcover) is a meditation on the slow demise of the pigeonniers in Normandy and Brittany, stone structures which were built in service as homes and way-stations for highly trained birds. Their isolation on the landscape as well as their now way-stations without a reason to be allows the artist to find a poetry in their isolation. Topaz becomes a poet with the camera, reminiscing about the mystery of the past, another era, another reason for thinking about the birds and man.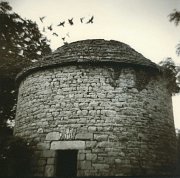 Just imagine how the messengers working for the Pony Express would be refreshed when they got to a Saloon, or a hotel to rest before hurrying on with their important mail. So too the French felt that messenger pigeons in their important role needed to refresh and renew. And the artist, Vicki Topaz, captures the poetry of this all. Not an industrial manual would do it. But her nostalgic eye captures the experience of the structures as well as their precious raison d'être. The pigeonniers contain the "sweetness of their former occupants, of the characteristics of these birds–their gentleness, loyalty, nesting and social instincts, and ability to hone in on home."
Using a traditional black and white process associated with the rich palette of grays in silver printing, Topaz captures the "far west" light of the area. High contrast shade and sun makes for a feeling of the volume of these structures made by men for birds. And these are not documents of architecture, but visual experiences of deep emotions for the past, a resonance of emotions including nostalgia for the past, for ruins, for hope. Available from Vamp & Tramp
SMALL BOOKS
Clippings by James Prez (Brooklyn, NY, 2007, $15.00 is a series of newspaper clippings which are "copied" so that they show gray backgrounds while the clipping is placed on the right of each page. In a spiral bound small book, the array of clippings suggest that the world has gone mad. "Molest Priest cuts his throat" or the visual poetry of "Coffee brews healthy news". An insert includes a glued clipping on board with six marks on the backside.
The Book of Elizabeth by Andrea Stokes (Arbroath, Scotland, Hungry Dog Press, 2007, $20.00 paper) is the result of a residency at Hospitalfield House where Elizabeth Allan-Fraser lived with her husband. Andrea lists what she knows about Elizabeth, and the things she has seen. With imaginings, conversations, and images drawn from residents in Arbroath, Stokes attempts to construct a portrait of Elizabeth Allan-Fraser, who was born in 1805 at Hospitalhouse in Arbroath, Scotland and who married artist Patrick Allan Fraser in 1843, but about whom little else is known. The book constructs a version of Elizabeth's life using insights, images, and imaginings drawn from residents of Arbroath. Stokes brings together clairvoyants, astrologers, and graphologists, and combines their words with portraits of local women posing as Elizabeth. Throughout the book a narrative emerges, objects are found, and discoveries are made, shedding light on a previously unknown figure from history.
Searching for Ludwig Wittgenstein: Lake Eidsvatnet, Skjolden, Sogn, Norway by Jan Estep (Minneapolis, 2007, $10.00 paper) is a two-sided fold-out map that documents the geographic site of a small hut overlooking the fjords of Norway where Australian philosopher Ludwig Wittgenstein would go to work in solitude. The illustrated map includes photographs as well as topographic details of the site, historical information about Wittgenstein's relationship to Norway, a detailed train drawing with photographic illustrations, plus a philosophical essay about his work and ideas as well as documentation of the artist's search for the hut's remains. The map helps us visualize the mystery and the quiet of Wittgenstein's solitude while he worked.
Woodland by Marten Lange (Farewell Books, 2007, $13.00) is a series of high contrast black and white photographs of trees and brush in a forest, where the imagery looks like line drawings, and where the chaos of nature delves deeply in contrast to the nature of chaos easily perceived.
The Years to Come by Eiko Grimberg (Zurich, the Green Box, 2006, $20.00 paper) tells the story of the explosion that occurred in the financial district of New York City on 16 September 1920. Grimberg takes it upon herself to discover the reason for the explosion, which was never revealed, combing through historical documents to compile a list of possibilities that range from the accidental to the conspiratorial. The story unfolds slowly, text is surrounded by a great deal of white space, and photographs of the buildings are interspersed with newspaper clippings. The effect is quiet gravity, and the reader is left to make connections between this tragedy and more contemporary ones.
Installer by Al Masson (Copenhagen, Space Poetry, 2007. $25.00 hardback) is a kind of journal by the French artist, who writes in a very conversational tone about his life and work, accompanied by many color photographs illustrating various performances and installations that he created over the year. Early pieces include the 1996 "Emergency to Be Reported" series of performances done at Kulturfabrikken in Copenhagen; the most recent is a 2006 "Collaboration" installation done at the Asbaek Gallery in Mallorca, Spain. A wonderful installation of "Plastic Interior" (2005) is remarkable for its gorgeous colors and formal organization. A great example of a personal journey.
Le Coin du Diable by Lucile Desamory (Berlin, Green Box, 2006, $20.00 paper) is a series of collages, in book form, suggesting a loose narrative of women and animals, insects and birds in domestic settings and out in cobblestoned lanes in front of the pub, Le Coin du Diable. The images are taken from newspapers and old illustrations and bear the marks of their reproduction. With chapter titles in French.
Split Decision by Jason Bogdaneris (Montreal, Small Italy Press, 2002, $3.00 paper) is a tale of deception, duplicity and deceit, told as a photo storybook done in the style of Italian fotoromanzi, which were popular in the 1940s. It is a semi-satirical narrative involving a man returning after being away, coming back to his girlfriend with a mustache, assuming the role of the darker side as embodied by the oldest of narrative conventions: the evil twin. Moves very well through the narrative and is engrossing.
Libretto by Benny Nemerofsky Ramsay (Winnipeg, Canada, Plug In ICA. 2004, $10.00 handsewn binding signed and numbered) handsomely printed in hot pink ink is a collection of song texts from Benny Nemerofsky Ramsay's 2003 installation Lyric. First shown at the at the Neverending Song of Love exhibition at the Plug In Institute of Contemporary Art in Winnibeg, Lyric is a video installation involving the composition and performance of a sung narrative comprised of sound bites taken from the lyrics of 1,000 popular love songs. As a performance, it seeks to "engage on a musicological level while also revealing a sense of human endurance, a physicality that reflects exhaustion from the act of marathon singing, the act of consuming mass quantities of pop music and the act of loving. And it reads so beautifully.
"Stop it, Ted," I screamed when he finally released me, but he didn't hear…" [The Adult Life of Toulouse Lautrec] by the late Kathy Acker (New York, TVRT, 1975, $20.00 paper) continues in Acker's earlier tradition of sending us little booklets from La Jolla in the same size envelope for months in the 70s. This modestly printed chapbook is a precursor to, and an excerpt from Acker's better known but out of print 1978 version of The Adult Life… In a series of short narratives which share themes of sexuality and power, Acker takes on desire, resistance, abuse, pornography, and happy endings. This is a find and if you like Acker's other books, this is one to get while it is available.
The reason why I am here is the reason why I am here Lynn Valley 3 by Jonathan Monk (Vancouver and Toronto, Canada, Presentation House Gallery and Bywater Bros. Editions, 2007, $20.00 softcover) is a series of full-color photographs from Morrissey's 2007 concert in Vancouver. The images explore matters of spectatorship, spatial arrangement, and spatial perception. Arranged in mirror layouts, it certainly gives you a close view feeling of the concert.
I was a Teenage Vegan Cookbook, volume 3 by Max Krafft [Fall is Full of Stuff] (Canton, MA: Obliterate Books. 2007, $5.00 paper) is part comic book, part cookbook, the third in a series providing recipes for such autumnal delights as Monster Mash and Skanky Pumpkin (a delicious-sounding pumpkin pie). Krafft's pen and ink drawings weave together an extremely loose narrative involving a vegan superhero and pumpkin-headed villain; more importantly, they illustrate cooking techniques that any culinary novice interested in meat and dairy-free cooking will find easy to follow. Part artist book, part cookbook. What more can you want for $5.00?
3 Communiqués by Alun Rowlands (London, Book Works, 2007, £12.00) is a documentary fiction charting a journey through the marginal histories of communalism, self-presentation and collective agency. It forges a subjunctive archaeology that renegotiates utopian propositions as a way of both making art and as a tool for progressive thinking.
Stanley Green, 'The 'Protein Man' is embroiled in an argument. He trawls the city streets campaigning for the suppression of desire through diet. His self-published pamphlet, 'Eight Passion Proteins with Care' outlines the connections between nutrition, sedentary life and human sexuality. A second constellation recounts the history of a non-conformist group founded on action-analysis and bohemian schedules. Elsewhere, socialist-utopian Charles Fourier forms the basis of a discussion about the occupation of Sealand, His passionate series and visionary designs of the Phalanx rouse the search for an islet of resistance.
The design of these three pamphlets with a gatefold binding is ingenious in an edition of 1,000 copies, black and white and color, 80 pages. ISBN 978 1 870699 91 4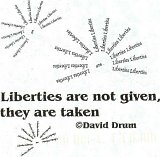 Liberties are not given, they are taken by David Drum (Los Angeles, Burning Books Press, 2008, Ed. of 100, pink, black and blue, signed and dated by artist, $9.95) is a very appropriate visual poem about Freedom, as inspired by a quote from Aldous Huxley. The pages scream off the page–and yet are simple, beautifully executed, and powerful. If you love visual poetry, freedom, rights and privileges, and liberty, then this is the book to buy, give and return to it often. Can be ordered from Burning Books Press, P.O. Box 41053, Los Angeles, CA 90041-0053. www.burningbookspress.com
TUNNEL BOOKS
Chicago-based artist Joan Sommers is a book designer and creator of several tunnel books such as: Dancing Skeletons Tunnel Book (Chicago, Tunnel Vision Books, 2006, $14.95) which allows the viewer to watch the bony characters come to life. Created by famed Mexican printmaker José Guadalupe Posada, the skeletons dance the fandango, play music, even fry tortillas. Included in this book is a 16-page bilingual book on Posada's life, the social significance of his comic calaveras, and the Mexican tradition of the Day.
Henri Rousseau Tunnel Book (Chicago, Tunnel Vision books, 2006, $14.95) allows the viewer to expand the book and the dense jungle comes alive. Layers of leaves, drooping, bananas, and branches heavy with oranges are merely the backdrop to the central drama–a ferocious tiger pounding on a buffalo. Includes a 16-page booklet on the life and work of this extraordinary self-taught artist.
Other titles in the serious are A Sunday on La Grande Jatte, The Coral Reef, and the Rainbow Bird. All the books are distributed by Independent Publisher Group. For more information, contact info@tunnelvisionbooks.com
PERIODICALS
Mat. #2 Inside the Circle, edited by Francesca Lacatena and Megan Sullivan (Berlin, Mat. 2007, $8.00 paper) is a Berlin-based cahier started in 2007, presenting in this issue "Irony as Microscopy", a featured essay on producing microscopic objects, including contributions from Ken Okiishi, Richard Hawkins, Judith Hopf, Susanne Winterlingg, Nick Mauss, Stefanie Seibold, Lygia Clark and more. Also includes special section on fashion with Zillie Homa Hamid, Roland Barthes, and Bourdieu.
OX. No. 98 [Poivron] by Philippe Clerc (Paris, France, Ox Monthly Magazine, 1999, $15.00) is another number in the monthly periodical that explores a variety of subject matter and presents the results of each exploration in the same format: as black and white photocopies printed on tracing paper. Issue 98 features a small format photographic study of peppers, which are delicate and beautiful.
REPRINTS
John Cage.Diary: How to Improve the World (You Will Only Make Matters Worse) Continued Part Three (1967) in a 2007 reprint of this 1967 Great Bear Pamphlet (West Glover, VT, Something Else Press, 1967) in a new printing by Primary Information. $10.00 paper
CATALOGS
Book Arts 2007: Bright Hill Center, the Sixth North American Juried show, juried by Karen Hanmer and Bertha Rogers (Treadwell, NY, 2007, $16.00) shows bookworks from all over the country. Each artist book is illustrated (only in black and white) with a biography and statement. The full paged images of bookworks is quite helpful, the portraits of the artists are also included, and there are a great many photos of the exhibition, as well as well as a rundown of Bright Hill Press and other publications they have done. The catalog is truly a labor of love, thanks to Bertha Rogers' continued leadership of this amazing Center. Write to Bright Hill Press, P.O. Box 193, 94 Church St., Treadwell, NY 13846-0193 or e-mail: wordthur@stny.rr.com The website is: www.brighthillpress.org